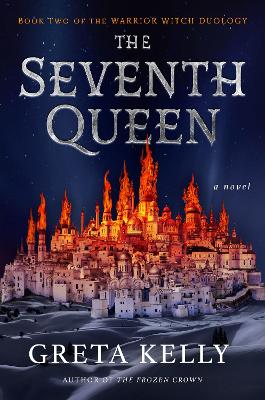 Bookhype may earn a small commission from qualifying purchases. Full disclosure.
After the gasp-inducing cliffhanger ending of The Frozen Crown, the exciting conclusion to the epic story of Askia—a warrior, witch, and queen-to-be—as she confronts the monster that stole her throne…and is holding her prisoner to steal her magic.

"Complex worldbuilding and fascinating characters propel the intricate plot to a deeply satisfying climax. Sword-and-sorcery fans won't be able to put down this gripping tale of female solidarity and triumph." — Publishers Weekly (starred review)

The Empire of Vishir has lost its ruler, and the fight to save Seravesh from the Roven Empire is looking bleak. Moreover, Askia has been captured by power-hungry Emperor Radovan, who plans on making her his wife simply so he can take her magic as his own, killing her in the process. Aware of his ex-wives' fates, Askia must find a means of avoiding this doom, not only for the sake of Seravesh, but now for Vishir as well. She must put both nations first and remember Ozura's advice: you must play the game in order to survive. Askia was born a soldier, but now it's time to become a spy.

But it's hard to play a game where the only person who knows the rules wants to kill her.

And time is a factor. The jewel Radovan has put around her neck will pull her power from her in thirty days. Worse, Vishir might not even have that long, as the two heirs to the throne are on the verge of civil war. Without any hope for help from the south, without any access to her magic, alone in a hostile land, Askia is no closer to freeing her people than she was when she fled to Vishir. In the clutches of a madman, the only thing she's close to is death.

Yet she'd trade her life for a chance to save Seravesh. The problem: she may not have that choice. 



ISBN10

006295699X

ISBN13

9780062956996

Publish Date

9 December 2021

(first published 2 November 2021)

Publish Status

Active

Out of Print

11 July 2023

Publish Country

US

Imprint

Harper Voyager
Format

Hardcover

Pages

384

Language

English