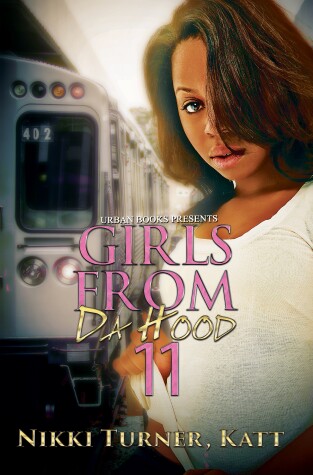 Bookhype may earn a small commission from qualifying purchases. Full disclosure.
Urban Books' popular Girls From da Hood series continues its gritty street drama in this eleventh installment, featuring urban fiction superstar Nikki Turner, and newcomer Katt.

Tia, Ton'ya, and Tammi are not only making moves in the game, but they're doing it in the bedroom too—and anywhere they need to get what they want. Tia is quick with her razor-sharp mouth, and she carries an equally sharp razor to slice a throat if need be. Ton'ya is loyal to a fault, but will body a nigga if they trip. Tammi is the brains of the operation. They have collected more bodies than a Manhattan hooker working the lower East Side. What happens when the heart gets in the way of making money?

Best friends Pedro and Rico met Shane at a concert in Brooklyn, and they soon became fast friends, making money and moving major weight to solidify their place in the game. Pedro is the pretty boy who thinks his dick can get him anywhere and anyone. Rico, the strategist, believes that he is the smartest man in any room. Shane, the outspoken one, is the deal maker and breaker. They have but one goal: to become the best in the game.

All hell breaks loose when brains, brawn, and dick collide with tantalizing titties and tongue. What will happen when everyone wants what they want and it interferes with their crew's best interests?
ISBN10

1622867645

ISBN13

9781622867646

Publish Date

30 August 2016

Publish Status

Active

Publish Country

US

Imprint

Urban Books
Format

Paperback (US Trade)

Pages

288

Language

English