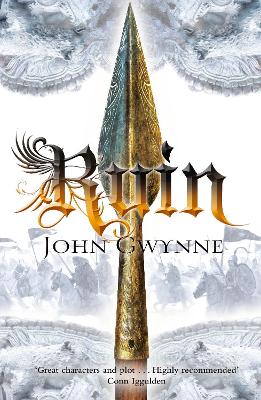 Bookhype may earn a small commission from qualifying purchases. Full disclosure.
Shortlisted for the 2016 David Gemmell Legend Award for Best Novel.

The third in The Faithful and the Fallen series, Ruin by John Gwynne continues the gripping battle of good vs evil.

The Banished Lands are engulfed in war and chaos. The cunning Queen Rhin has conquered the west and High King Nathair has the cauldron, most powerful of the seven treasures. At his back stands the scheming Calidus and a warband of the Kadoshim, dread demons of the Otherworld. They plan to bring Asroth and his host of the Fallen into the world of flesh, but to do so they need the seven treasures. Nathair has been deceived but now he knows the truth. He has choices to make; choices that will determine the fate of the Banished Lands.

Elsewhere the flame of resistance is growing - Queen Edana finds allies in the swamps of Ardan. Maquin is loose in Tenebral, hunted by Lykos and his corsairs. Here he will witness the birth of a rebellion in Nathair's own realm.

Corban has been swept along by the tide of war. He has suffered, lost loved ones, sought only safety from the darkness. But he will run no more. He has seen the face of evil and he has set his will to fight it. The question is, how? With a disparate band gathered about him - his family, friends, giants, fanatical warriors, an angel and a talking crow - he begins the journey to Drassil, the fabled fortress hidden deep in the heart of Forn Forest. For in Drassil lies the spear of Skald, one of the seven treasures, and here it is prophesied that the Bright Star will stand against the Black Sun.
ISBN10

1447259629

ISBN13

9781447259626

Publish Date

16 July 2015

Publish Status

Out of Print

Out of Print

4 March 2021

Publish Country

GB

Publisher

Pan Macmillan

Imprint

Tor
Format

Hardcover

Pages

768

Language

English
Reviews
4.5/5
OMG WHAT DID I JUST READ????????
It should be illegal to finish a book like this.. so much tension, so much blood... I'm sad, and excited, and sad, and shocked, and sad... this was AWESOME.
I love this series so much, it's becoming one of my favorite.
I'm not able to find the right words right now to express how incredible this story is... let's just say that if you love fantasy you definitely should read it (and don't let the first book fool you, it's not just a typical fantasy book, there's so much more to discover!)

The only thing I know right now is that I have too many favorite characters (Coralen, Corban, Veradis, Gar ...) and, usually, all my favorites tend to die horribly in every single book I read, so I'm kind of terrified right now!