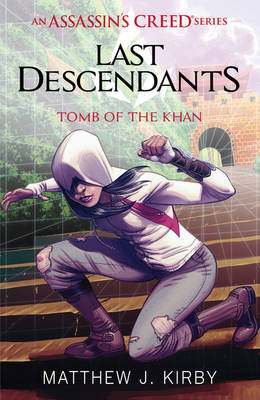 Bookhype may earn a small commission from qualifying purchases. Full disclosure.
Official fiction based on the Assassin's Creed game!

As the second book in the Last Descendants trilogy begins, Owen and his friends have lost.

When they located the first piece of an ancient and powerful relic long considered a legend —the Trident of Eden—it seemed little could stop them.

This piece was sought by the Brotherhood of Assassins and the Templar Order, but before either organization could take the piece, it was stolen by an unknown third party.

The relationship between the teens fractured - Owen and his friend Javier taking sides with the Assassins, the others with the Templars.

Now there are still two pieces of the Trident of Eden to find, and both are determined not to repeat their mistakes. The next piece is said to have been buried with the Mongol
warlord Mongke Khan, whose tomb has never been found.

Teens on either side of the conflict will have to go into simulations in war-torn Mongolian China in a race against time to discover the next piece, and ensure their safety before
their enemies find it first.

The thrilling second book in the trilogy based on the Assassin's
Creed game.

Part historical fiction, part tie-in, this novel creates an all-new
narrative fans of the video games will love.
ISBN13

9781407161709

Publish Date

2 March 2017

(first published 27 December 2016)

Publish Status

Out of Print

Out of Print

7 April 2021

Publish Country

GB

Imprint

Scholastic
Format

Paperback

Pages

352

Language

English