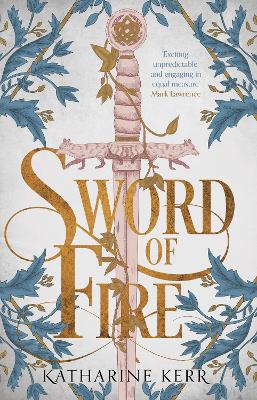 Bookhype may earn a small commission from qualifying purchases. Full disclosure.
The celebrated DEVERRY series is an epic fantasy rooted in Celtic mythology that intricately interweaves human and elven history over several hundred years.

The bards are the people's voice – and their sword.

All over the kingdom of Deverry, the common people are demanding a change that will wrest power from the landed aristocracy: reform of the corrupt law courts. In the city of Aberwyn, the situation catches fire when the authorities allow the death of a bard from a hunger strike rather than hear the people's protest.

But things haven't always been this way.

Alyssa, a student and protégé of the bard who gave his life, discovers evidence that may overthrow the system that keeps her people downtrodden – in an ancient tome hidden far away. Though there are powerful lords who will kill anyone who threatens their privileges, and the road is full of the unknown – dragons, royalty, secrets and more –  Alyssa volunteers to make the dangerous journey and bring back the text.

A chance encounter with a rough but handsome stranger, a riot in the streets and Alyssa charges into her mission whether she's ready or not.
 The time has come to burn away injustice.

This first novel of an epic fantasy trilogy introduces new readers to the beloved and bestselling world of Deverry while delighting fans of Kerr. A tale of uprising and empowerment that blends magic, politics, and adventure in an unforgettable setting.
ISBN13

9780008276751

Publish Date

20 February 2020

(first published 18 February 2020)

Publish Status

Out of Print

Out of Print

7 April 2022

Publish Country

GB

Publisher

HarperCollins Publishers

Imprint

HarperVoyager
Format

Hardcover

Pages

384

Language

English