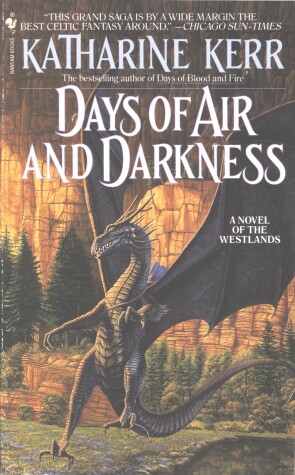 Bookhype may earn a small commission from qualifying purchases. Full disclosure.
Acclaimed author of the dazzling cycle of fantasy novels set in Deverry and the Westlands, Katharine Kerr continues her epic saga of humanity as a shift of power on the astral plane brings change to the world of men...

The city of Cengarn is under siege. Armies both astral and physical are massing for and against the goddess Alshandra, who seeks to prevent the birth of one fate-bound child. It falls to the dweomermaster Jill and her allies to protect the child's human mother, Princess Carra--and Deverry's already foretold future--by magic and by might. But as the warrior Rhodry wings toward the battle on dragonback, he cannot know that soon he will face his ancient enemy, Alshandra's high priestess Raena, who will use any means to destroy him. Their confrontation could turn the tide of the siege--and change the fate of Deverry forever.
ISBN10

0553572628

ISBN13

9780553572629

Publish Date

1 August 1995

(first published 1 July 1994)

Publish Status

Active

Publish Country

US

Imprint

Bantam Doubleday Dell Publishing Group
Format

Paperback (US Mass Market)

Pages

432

Language

English