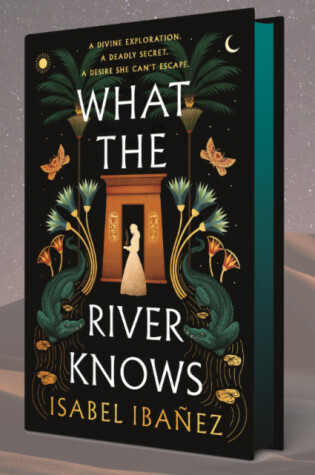 Bookhype may earn a small commission from qualifying purchases. Full disclosure.
The Mummy meets Death on the Nile in this lush, immersive historical fantasy set in 19th century Egypt, filled with adventure, a rivals-to-lovers romance, and a dangerous race. 

Bolivian-Argentinian Inez Olivera belongs to the glittering upper society of nineteenth century Buenos Aires, and like the rest of the world, the town is steeped in old world magic that's been largely left behind or forgotten. Inez has everything a girl might want, except for the one thing she yearns for the most: her globetrotting parents - who frequently leave her behind when they venture off on their exploring adventures.

When she receives word of their tragic deaths, Inez inherits their massive fortune and a mysterious guardian, an archaeologist in partnership with his Egyptian brother-in-law. Yearning for answers, Inez sails to Cairo, bringing her sketch pads and an ancient golden ring her father sent to her for safekeeping before he died. But upon her arrival, the old world magic tethered to the ring pulls her down a path where she soon discovers there's more to her parent's disappearance than what her guardian led her to believe.

With her guardian's infuriatingly handsome assistant thwarting her at every turn, Inez must rely on ancient magic to uncover the truth about her parent's disappearance-or risk becoming a pawn in a larger game that will kill her.
Goldsboro Books pick for October 2023. This special edition is signed and numbered with ombre sprayed edges and hidden foiling under the dust jacket.
Publish Date

14 November 2023

(first published 31 October 2023)

Publish Status

Forthcoming

Publish Country

GB

Publisher

Hodder & Stoughton

Imprint

Hodderscape