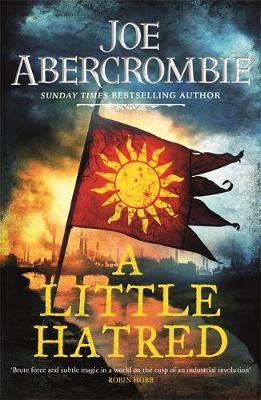 Bookhype may earn a small commission from qualifying purchases. Full disclosure.
Introducing a cast of unforgettable new characters, A LITTLE HATRED is the start of a brand new trilogy set in the world of the First Law which will have you gripped from the very start . . .

War. Politics. Revolution.
The Age of Madness has arrived . . .

The chimneys of industry rise over Adua and the world seethes with new opportunities. But old scores run deep as ever.

On the blood-soaked borders of Angland, Leo dan Brock struggles to win fame on the battlefield, and defeat the marauding armies of Stour Nightfall. He hopes for help from the crown. But King Jezal's son, the feckless Prince Orso, is a man who specialises in disappointments.

Savine dan Glokta—socialite, investor, and daughter of the most feared man in the Union—plans to claw her way to the top of the slag-heap of society by any means necessary. But the slums boil over with a rage that all the money in the world cannot control.

The age of the machine dawns, but the age of magic refuses to die. With the help of the mad hillwoman Isern-i-Phail, Rikke struggles to control the blessing, or the curse, of the Long Eye. Glimpsing the future is one thing, but with the guiding hand of the First of the Magi still pulling the strings, changing it will be quite another . . .
ISBN10

0575095865

ISBN13

9780575095861

Publish Date

17 September 2019

Publish Status

Out of Print

Out of Print

5 March 2021

Publish Country

GB

Imprint

Gollancz
Format

Hardcover

Pages

480

Language

English