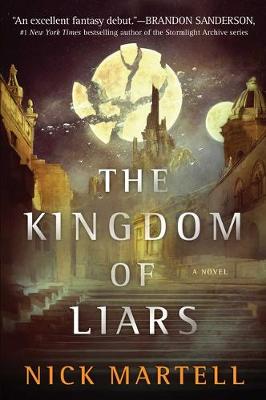 Bookhype may earn a small commission from qualifying purchases. Full disclosure.
Michael was branded a traitor and his family exiled from courtly life after his father, David Kingman, murdered the king's nine-year-old son.

Now he survives by conning, cheating and duelling minor royals in a weak attempt to strike back at the world that abandoned him and his family, sure all the while that his father must be innocent . . . and aware that some powerful secret lurks in the hot white emptiness of his mind.

So when the opportunity arrives to return to court, via the most dangerous of the King's royal council, Michael takes it, hoping for clues to unlock his hidden past. Instead, he's going to find a royal family spiralling into a self-serving dictatorship, as beyond the walls gun-wielding rebels clash against magically trained militia.

But if he can find his way to the truth, he could completely reverse the injustices which rule the Hollows . . . if Michael and his family can survive long enough to see it . . .
ISBN10

1534437789

ISBN13

9781534437784

Publish Date

23 June 2020

(first published 5 May 2020)

Publish Status

Out of Stock

Out of Print

18 January 2023

Imprint

Gallery / Saga Press
Format

Hardcover

Pages

608

Language

English
Reviews
Bloody brilliant! Can't wait for the next book.

I was approved an ARC of this book by the publishers via NetGalley in exchange for an honest review. This review in its entirety was originally posted at my blog, eclectic tales: http://eclectictales.insanitysandwich.com/blog/2020/08/14/review-the-kingdom-of-liars/

I wanted to like this book, I really did. As I mentioned the premise was interesting, loved the book cover, Brandon Sanderson was on the blurb…And yeah. What interested me the most about this book was the magic system, the Fabricators, and the use of memory in this novel. I wish it was explored more but there was a lot going on in this book: the politics, the dynamics, the struggle to survive.

Another reason why I didn't like the book as much as I wanted to was the main character. Michael…his intentions are well-meaning, the only one who could really shoulder the memory of the Kingsman family, but man was he whiny, which then lends to some of his decision making. The whole scheme just did not convince me at all, he didn't evoke enough empathy in me to see his story through with my support.

So yeah, unfortunately I did not enjoy reading The Kingdom of Liars. It had potential with the complex web of politicking and scheming and social class upheaval as well as the magic system but the characters and the worldbuilding just did not do anything for me.

I received a copy of The Kingdom of Liars through BookishFirst in exchange for a fair and honest review.

The Kingdom of Liars is the first novel in a new series, The Legacy of the Mercenary Kings by Nick Martell. It's an epic fantasy series, full of political intrigue, past wrongs, plots of revenge, and so much more.

What sort of life would one have, when their father is branded and killed for being a traitor? That is the fate that Michael faces. His family used to be an essential part of the Kingdom. But now? They're considered worse than scum.

Michael is on a course to find the truth of what happened that night so long ago. Along the way, he's going to fight for his and his family's name. But doing so means he has to dive into a world of politics and magic. A world that does not play nicely, as Michael knows all too well.

"But the problem is, the older you become, the more you discover that memories change on their own. Some fade away, some stories change slightly, and some memories are so drastically different a decade after they occurred that no one can be quite sure what the truth is."

The Kingdom of Liars is one of those slow-burning fantasies. While it starts off on the slower side, by the end it is a world full of dramatic and intense moments. It easily became a world I couldn't look away from, and I am already anxiously looking forward to the next in the series.

Politics and magic. One of my favorite combinations in a novel. I knew from the moment I saw those keywords in the description, that I would love reading The Kingdom of Liars. I wasn't wrong. This novel delivered on all of the promises it made, while throwing in a few surprising twists along the way.

I'll confess that The Kingdom of Liars did have a bit of a slow start. It took me a while to get into the world and to appreciate the characters involved. But once it hits around the halfway mark (though perhaps even sooner than that) it turns into something so much more. So if you find yourself struggling with this read, I urge you to keep going just a little bit more.

The payoff will be worth it. This rapidly became a complex world, full of scheming, politics, threats, magic, and so much more. All of these elements seem to revolve around Michael and his family – the Kingman family. The intrigue of the past would have been enough to keep me going, but the character development (and secondary characters) was the icing on the cake. At least, for me.

The magical system is admittedly another highlight for, albeit one that I feel needs to be explored more. Here's hoping that later novels will dive into that a bit more because I have so many questions!

On the whole, I found myself really enjoying The Kingdom of Liars. While it may have taken me a few chapters to really get into things, I really did become hooked by the end. So much so that I was actually sad to see it end. On the bright side, that just means I get to look forward to the next novel all the more, though that will probably be a bit of a wait.

Check out more reviews over at Quirky Cat's Fat Stacks