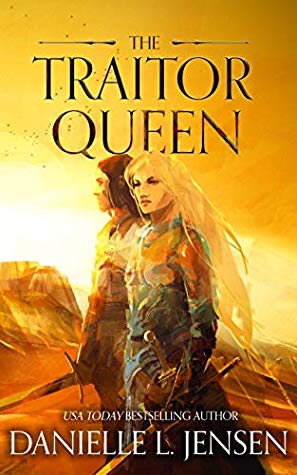 Bookhype may earn a small commission from qualifying purchases. Full disclosure.
Lara has only one thought when her husband is taken prisoner: I will do whatever it takes to set you free.

A queen now in exile as a traitor, Lara has watched Ithicana be conquered by her own father, helpless to do anything to stop the destruction. But when she learns her husband, Aren, has been captured in battle, Lara knows there is only one reason her father is keeping him alive: as bait for his traitorous daughter.

And it is bait she fully intends to take.

Risking her life to the Tempest Seas, Lara returns to Ithicana with a plan not only to free its king, but for liberating the Bridge Kingdom from her father's clutches using his own weapons: the sisters whose lives she spared.

But as Lara and her companions formulate a plan to free Aren from her father's palace, they soon discover that while it is easy to get in, it will be quite another thing to get Aren, and themselves, back out. Not only is the palace inescapable, there are more players in the game than Lara ever realized, enemies and allies switching sides in the fight for crowns, kingdoms, and bridges. But her greatest adversary of all might be the very man she's trying to free - the husband she betrayed.

With everything she loves in jeopardy, Lara must decide who - and what - she is fighting for: her kingdom, her husband, or for herself. 
ISBN10

1733090355

ISBN13

9781733090353

Publish Date

1 September 2020

(first published 27 February 2020)

Publish Status

Active

Imprint

Context Literary Agency LLC
Format

Hardcover

Pages

346

Language

English
Reviews
Loved it. <3 But I do feel like it could have done with an epilogue.
Star Rating: —> 3.5 Stars

The beginning was great and then this kiiiiiinda took a nose dive in the second half :-/

Probably RTC when I get home from vacation to see my fam. It all comes good in the end...

I've been planning to write a review for The Traitor Queen for days but I struggled to find the right words to express my feelings. I really enjoyed listening to the audiobook and found it extremely hard to pause and step away from this action-packed story.

I loved getting back to The Bridge Kingdom but admit to having a hard time with how long it takes for Lara and Aren to be reunited. It was even harder knowing that Aren is feeling betrayed by Lara and hates her for what her betrayal has done to his people. Aren's guilt is even worse because while he is captured, he is taunted with proof that his people are being punished for his bad judgement.

I really like Lara and Aren individually and completely understood where they were both coming from. Lara has made mistakes but she's willing to risk her life to fix some of them. Aren is sick of his people suffering because of greed and selfishness. They must both learn to trust each other again and stand up for what they believe in.

Now, after that introduction, I'm sure that a lot of people who haven't read the first book are scratching their heads not knowing what the heck I'm talking about. Sorry!!!

As you might have guessed, this is not the kind of story you can come in and "catch up". You need to see Lara and Aren's relationship from the very beginning. You also need to know what Lara has lived through up until she is with Aren. It's not pretty and will even turn your stomach knowing what Lara's father is capable of.

The narrators do a fantastic job bringing the characters to life and I really enjoyed listening to James Patrick Cronin's narration.

I love the characters, the storyline kept my attention from start to finish and I had my fingers crossed that a certain person would come to his very deserved end. There are a few things that have been left unanswered and unfinished, so I hope Danielle L. Jensen doesn't keep me waiting too long to get my answers.