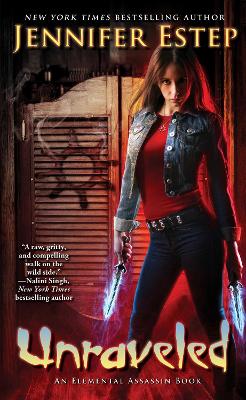 Bookhype may earn a small commission from qualifying purchases. Full disclosure.
Danger and new enemies await Gin Blanco, aka the Spider—the world of Ashland's most fearsome assassin—in Unraveled, Book 15 of the New York Times bestselling Elemental Assassin urban fantasy series that RT Book Reviews calls "unbeatable entertainment!"

What could go wrong when you're trying to unravel a decades-old conspiracy?

As the current queen of the Ashland underworld, you would think that I, Gin Blanco, would know all about some secret society controlling things from behind the scenes.

I might be the Spider, the city's most fearsome assassin, but all my Ice and Stone elemental magic hasn't done me a lick of good in learning more about "the Circle". Despite my continued investigations, the trail's gone as cold as the coming winter.

So when Finnegan Lane, my foster brother, gets word of a surprising inheritance, we figure why not skip town for someplace less dangerous for a few days? That place: Bullet Pointe, a fancy hotel resort complex plus Old West theme park that Finn now owns lock, stock, and barrel.

At first, all the struttin' cowboys and sassy saloon girls are just hokey fun. But add in some shady coincidences and Circle assassins lurking all around, and vacationing becomes wilder—and deadlier—than any of us expected.

Good thing this assassin brought plenty of knives to the gunfight …
ISBN10

1501142267

ISBN13

9781501142260

Publish Date

30 August 2016

Publish Status

Active

Publish Country

US

Publisher

Simon & Schuster

Imprint

Pocket Books
Format

eBook (EPUB)

Pages

400

Language

English
Reviews
always a good series. 3

My review and an extended sample of the audiobook are posted at Hotlistens.com.

This is the fifteenth book in the Elemental Assassins series by Jennifer Estep. You would think that fifteen books in, things would start to get boring. That is not the case here. In this book, Gin and her sister go with their men down to Bullet Pointe to see what Mama Dee left to her boy. So with Gin, Owen, Finn and Bria decided to make a vacation of it (if you've been following the series, you know how that worked out last time).

Gin is one of those people you can't take her anywhere without her getting into trouble. That has not changed here. As they spend their time in Bullet Pointe at the upscale resort and theme park with a Wild West, things start to go on their head. See the original owner of the park, Sweet Sally Sue, left behind some very high value jewels. When Mama Dee buys the park and decides the park isn't making enough money, she hid the jewels in the park and whoever finds them, gets to keep them. She did this to try to drum up more business. It worked too. However, after Mama Dee died, no one knew were the jewels were.

Mama Dee also brought in new management, Roxy and Brody. They are not a friendly group. Roxy is quite the talented shooter with her revolvers. She isn't only the manager, but also part of the show with her trick shooting. It is nothing that Gin hasn't seen before. However, Roxy has a few tricks up her sleeve.

Since this story takes place outside of Ashland, we have a smaller cast that are familiar, but that didn't make the story any less entertaining. I really enjoyed my time with Gin, Bria, Finn and Owen. Silvio isn't absent either, though most of his part is on the phone. A few others make the trip to Bullet Pointe before the story is over too. We also learn about a new villain that will probably be around for a bit, The Circle. We learned some here, but I know there is more to know.

We also get some flashbacks from Gin, back when her mom was still alive. Her father is even mentioned (I think this is the first we've heard of him). While, I love seeing the past with Gin, it is a little difficult to believe how she conveniently remembers all these pieces of information right when she needs in. (I know, I'm questioning believability about a story of about a girl who can read stones and create ice out of thin air, but there you have it). This isn't a new theme, Gin has flashback in every book. Like I said, I do love the looks back into the past. The timing is just all too convenient every time.

As per usual, this book is another fun installment in the Elemental Assassins series. If you haven't tried this series, I highly recommend you give it a shot. Gin is a strong woman who stands on her own. She is even getting better about accepting help from her friends.

Narration
If you like audios, then this is a series you should pick up on audio. Lauren Fortgang does an amazing job with this series. She brings in a great Southern accent to these North Carolinians. In this story, we get even more Southern accents from the workers at Bullet Pointe. I loved the addition of Roxy's voice who sounded a bit like Dolly Parton to me. It worked really well with the Wild West theme of the park. I love her male voices as much as the female voices. She has great pacing in how she reads. I will not read these books if they are available on audio.

**I like to thank the publisher for providing me with a copy of this audiobook in exchange for an honest review.

I received an ARC through NetGalley.

You know when your favorite TV show does a "movie" special? The characters leave their regular set and have an odd adventure somewhere else. Then those events are only loosely linked to the overarching plot and become a distant memory. That's basically Unraveled in a nutshell. Finn receives the deed to his mother's theme park and wants to go check it out. This whole situation seems suspicious, especially when they learn about some hidden jewels. Of course, it's an elaborate plot to use Finn and Gin to find the jewels, then kill them.

Unraveled was a fun and entertaining read. But it really does feel like the Degrassi Goes Hollywood of the Elemental Assassin series. It was just so random and outlandish. A Wild West theme park and resort? Really?! Gin even dresses up like a saloon girl! I just cannot fit this sequel into the rest of the series. It's so weird. It's not a bad read at all. It's just random. I wanted Gin to learn more about her mother and this mysterious Circle! Not run around having bar fights and looking for gems!

Well, Gin does learn some things in Unraveled, but not until the very end. Fletcher leaves her some very interesting photographs, but it's up to Gin to figure out what he's showing her. I have a feeling that big things are to come, but I am a little annoyed that I'm going to have to wait for yet another book to read about them! While Gin's Wild West adventure was fun, it was 100% filler in an already overstuffed series.

Read more of my reviews at Pinkindle Reads & Reviews.