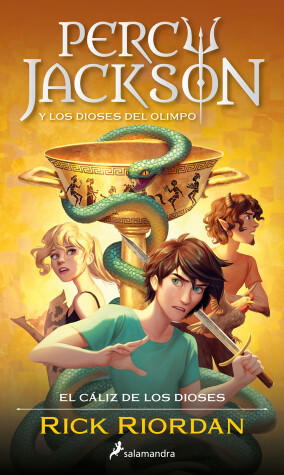 Bookhype may earn a small commission from qualifying purchases. Full disclosure.
Vuelve Percy Jackson, el protagonista estrella de Rick Riordan

Por una vez, Percy Jackson no debe preocuparse por salvar el mundo. En esta ocasión tiene una tarea mucho más difícil: entrar en la universidad. La Universidad de Nueva Roma pide cartas de recomendación de tres dioses para acceder, así que... sí: Percy tendrá que llevar a cabo nuevas misiones para conseguirlas.

Primera misión: el copero de los dioses, Ganimedes, ha perdido su cáliz, lo cual no sólo es vergonzoso, sino que podría provocar un desastre, ya que cualquier mortal que beba del cáliz obtendrá la inmortalidad. Percy, Annabeth y Grover deben encontrar el cáliz y devolvérselo a Ganimedes antes de que alguien se entere de lo sucedido. Estos dioses... podrían ponerles un GPS a sus objetos mágicos, ¿no?

ENGLISH DESCRIPTION

The original heroes from The Lightning Thief are reunited for their biggest challenge yet: getting Percy to college when the gods are standing in his way.

After saving the world multiple times, Percy Jackson is hoping to have a normal senior year. Unfortunately, the gods aren't quite done with him. Percy will have to fulfill three quests in order to get the necessary three letters of recommendation from Mount Olympus for college.

The first quest is to help Zeus's cup-bearer retrieve his goblet before it falls into the wrong hands. Can Percy, Grover, and Annabeth find it in time?

Readers new to Percy Jackson (this book can be enjoyed as a standalone) and fans who have been awaiting this reunion for more than a decade will delight equally in this latest hilarious take on Greek mythology.
ISBN13

9798890980274

Publish Date

19 December 2023

Publish Status

Forthcoming

Publish Country

US

Imprint

Salamandra Infantil Y Juvenil
Format

Paperback (US Trade)

Pages

416

Language

Spanish