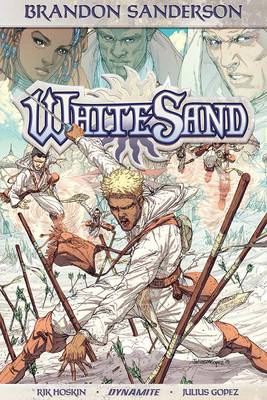 Bookhype may earn a small commission from qualifying purchases. Full disclosure.
2018 Dragon Award winner for Best Graphic Novel!

A brand new saga of
magic and adventure by #1 New York Times best-selling author Brandon
Sanderson.

On the planet of Taldain, the legendary Sand Masters harness
arcane powers to manipulate sand in spectacular ways. But when they are
slaughtered in a sinister conspiracy, the weakest of their number, Kenton,
believes himself to be the only survivor. With enemies closing in on all sides,
Kenton forges an unlikely partnership with Khriss -- a mysterious Darksider who
hides secrets of her own.

White Sand brings to life a crucial,
unpublished part of Brandon Sanderson's sprawling Cosmere universe. The
story has been adapted by Rik Hoskin (Mercy Thompson), with art by Julius Gopez
and colors by Ross Campbell. Employing powerful imagery and Sanderson's
celebrated approach to magical systems, White Sand is a spectacular new saga for
lovers of fantasy and adventure.

ISBN10

1606908855

ISBN13

9781606908853

Publish Date

28 June 2016

Publish Status

Active

Publish Country

US

Imprint

Dynamic Forces Inc
Format

Hardcover

Pages

160

Language

English
Reviews
Too short.

White Sand is based off of one of Brandon Sanderson's first works of the same name. The book itself is unpublished, so the graphic novel is the best way to gain access to the plot. I know not all of Brandon Sanderson's fans enjoy graphic novels, and in that case they should possibly considering skipping this one. I'm personally a huge fan of graphic novels, so I leapt at the chance to read one of his books in this format.



White Sand focuses on a man named Kenton, an acolyte with high hopes of becoming a Sand Master. The world all events take place in is called Taldain. While it appears to have many similarities with Earth, there are several glaring differences. One obviously is the use of magic; the other is the planet's rotation. On Taldain there is a dark side and a light side, obviously implying which side is facing towards and away from the sun.
As mentioned earlier, there is a light side on the planet. That is the side this story takes place. In what appears to be a desert (more on that later) is where the Sand Masters live. Which is understandable, as where else would sand be in such high quantities?
There were many elements of White Sand that I really enjoyed. The desert we are introduced to in the beginning isn't actually a desert in anything but appearance. The plants hold all of the water insides themselves as a defensive mechanism against insects and other predators. It's actually quite brilliant, and more than a little bit fascinating. Water is corrosive to many creatures on this side of the planet, making it the best defense against them. This is such a unique and interesting twist, I can't say enough good things about it.
There admittedly were some parts that I found myself confused by. For example, Kenton going from being barely able to control one ribbon of sand to three (and possibly more?). This was explained in time, and I really enjoyed the explanation for the sudden gain.
Speaking of, I'm really curious about who the traitor to the Sand Masters is. My natural instinct is to agree with Kenton's suspicion of Drile being the offender. But I know Sanderson can be so much more subtle than that, so I'm thinking it may actually be somebody less obvious than that. Perhaps one of the other senators? Though if that's the case he'd still need help from somebody in the Sand Masters, as I agree with the poison theory.
There's another plot and set of characters I haven't mentioned yet, the Duchess and her entourage are from the dark side of the planet. I'm not yet sure how their plot connects to Kenton's (other than the obvious first introduction that is), but I'm sure it'll be revealed shortly, hopefully in volume two!
I can't believe I made it this far into my review without mentioning the artwork! It's stunning! Very sharp and well defined and striking. It's not a new style, but also it isn't a common style. It perfectly fit the theme and tone of the story. Rik Hoskin is a genius, I can't say much more than that.
I am very much looking forward to the release of volume two, despite the fact that I only recently discovered this series. I guess it just goes to show you how impatient I can be!


For more reviews, check out Quirky Cat's Fat Stacks
I hate to say this, but... I have to give this 3.5 stars. I liked it, and the art was great, but I didn't connect with the story or characters at all. There were a lot of places where I felt like I missed something or I wasn't understanding something I should've been; and there were a few scenes I think should've felt more impactful or epic, but just fell flat for me. And the ending was just kind of... an ending? Idk, maybe I'm just not a graphic novel person. It was a fast, pretty enjoyable read, but I felt like I didn't get to fully experience the story or get to know the characters very well, which makes me sad. :(