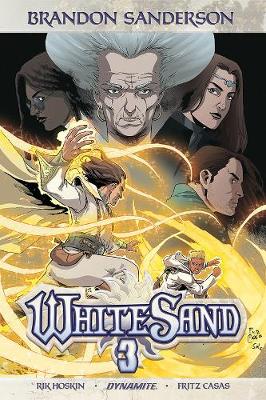 Bookhype may earn a small commission from qualifying purchases. Full disclosure.
Underpowered and overwhelmed, Kenton tries to hold the Sand Masters together as forces political and personal conspire against them. Now, in one final push, Kenton must tap the most dangerous depths of his own abilities to combat the enemies within his own guild, and discover the truth behind the ambush that killed his father and almost destroyed the Sand Masters for good.
ISBN10

152411006X

ISBN13

9781524110062

Publish Date

1 October 2019

Publish Status

Active

Out of Print

24 August 2023

Publish Country

US

Imprint

Dynamite Entertainment
Format

Hardcover

Pages

160

Language

English
Reviews
A great conclusion.

I received a copy of White Sand Vol. 3 through NetGalley in exchange for a fair and honest review.

White Sand Vol. 3 is the third novel following the Sand Masters series written by Brandon Sanderson. The series has been a dramatic one so far, following Kenton on his progressing quest to bring the Sand Masters back to their full power. And of course, he's going to try and do the right thing along the way. Which is turning out to be easier said than done.
Kenton had to grow up being looked down upon; thanks to his inability to control sand like his father or his fellow Sand Masters. And even now, when that has changed, Kenton finds himself fighting for respect. He may be the new leader, but he's got a long way to go before he can bring his people back up to where they once had been.
This task would be much simpler if there weren't assassins hunting him, or if he didn't have to face politicians biased against the Sand Masters. But Kenton has faced worse, so while they may delay him, they certainly won't stop him.

Side note: I saw Brandon Sanderson in person a couple of years back, and I asked him about the White Sand series. He promised that he wasn't done (that was before this volume had been started, mind you), and that he was open to working on more projects like this. I've been anxiously looking forward to any and all news since then.

White Sand Vol. 3 is perhaps one of the slower volumes in the series, but it progresses the story in leaps and bounds – despite how it may feel. And there are even a couple of fights fitted into the pages, just for us readers.
White Sand Vol. 3 spent a lot of time pushing forward all of the subplots that have been running through the series this whole time. And there were several of them to deal with. The Sand Masters and Kenton faced several changes, as did many of his allies – some new, some old.
On the whole, I found this volume to be extremely informative. There were a lot of conversations to be had, and even more politicking to be done. I know that this resulted in a slower first half of a novel, but it does pick up towards the end. I promise.
I loved the extra attention spent on the secondary characters in this volume, though to be honest I wouldn't have minded a little bit more time spent on them. Some of the changes and revelations felt a bit sudden (likely because so much had to be covered in such a small amount of time).
There is one quirk in the artwork I would like to mention as well. Every time a cloud is shown in the background, a woman's face is hidden within the fluff. It's an interesting touch, and I'm sure it's a stylistic choice, but it does leave me wondering about if there's any hidden meaning I should be looking for. I personally love little touches like that.
On the whole, I really enjoyed reading White Sand Vol. 3, though naturally I want to see how the story continues from here. I almost wish I hadn't read this one so quickly, as I'm sure there's going to be a wait for the next volume (I'm assuming the series isn't over, but I can't find any news about a fourth volume yet).

For more reviews check out Quirky Cat's Fat Stacks