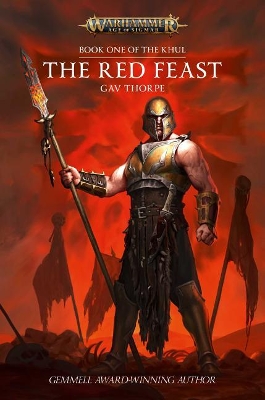 Bookhype may earn a small commission from qualifying purchases. Full disclosure.
On the Flamescar Plateau, a time of peace and prosperity is threatened by a distant sorcerous power. Can Athol Khul bring the tribes together to keep the peace, or will war claim them all – and destroy their future?

The coming of the God-King Sigmar has brought relative peace and prosperity to the Great Parch. Yet across the sun-drenched plains of the Flamescar Plateau the passions of the tribes are intemperate and generations of loyalty to the Hammergod cannot wholly erase their warlike past and bloodthirsty traditions. Among them live the Khul, outsiders allied to the mighty Aridians through shared blades. Athol Khul is the spear-carrier, the bridge between these peoples, and to him falls a near-impossible task when a distant sorcerous power threatens the alliance. With the lives of his family and people hanging in the balance, Athol must secure whatever companions and powers he can to aid in the coming war. In doing so, he starts upon a path that will lead to glory and ruin in equal measure.

*It's the start of a saga by Gav Thorpe that explores the Khul, the influential and powerful tribe of Aqshy that is the origin of one of the Age of Sigmar's greatest villains…

*A new fantasy novel from Gemmel Award Winning author Gav Thorpe. Charts the beginnings of the fall from grace of Khorgos Khul.

*Gav Thorpe is one of Black Library's most well known authors, having racked up a number of fan favourite novels for Warhammer Fantasy, Age of Sigmar and Warhammer 40,000.

 
ISBN10

1781939667

ISBN13

9781781939666

Publish Date

31 October 2019

Publish Status

Out of Print

Out of Print

1 July 2021

Publish Country

GB

Publisher

Games Workshop

Imprint

The Black Library
Format

Paperback (US Trade)

Pages

320

Language

English