Series:
The Winnowing Flame Trilogy
3 primary works Complete
Book 1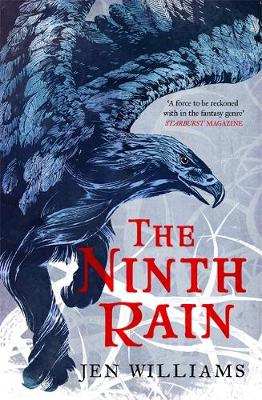 Published 23 February 2017
The first in a blistering new trilogy from Jen Williams, acclaimed author of British Fantasy Award-nominated Copper Cat trilogy. Epic fantasy for fans of Robin Hobb and Mark Lawrence's Red Sister.
'Fantasy adventure at its very best' Starburst
'Williams excels at eldritch world-building' Guardian
'An original new voice in heroic fantasy' Adrian Tchaikovsky
The great city of Ebora once glittered with gold. Now its streets are stalked by wolves. Tormalin the Oathless has no taste for sitting around waiting to die while the realm of his storied ancestors falls to pieces - talk about a guilt trip. Better to be amongst the living, where there are taverns full of women and wine.
When eccentric explorer, Lady Vincenza 'Vintage' de Grazon, offers him employment, he sees an easy way out. Even when they are joined by a fugitive witch with a tendency to set things on fire, the prospect of facing down monsters and retrieving ancient artefacts is preferable to the abomination he left behind.
But not everyone is willing to let the Eboran empire collapse, and the adventurers are quickly drawn into a tangled conspiracy of magic and war. For the Jure'lia are coming, and the Ninth Rain must fall...
---
Book 2
**Winner of the British Fantasy Award 2019 for Best Fantasy Novel** 

From Jen Williams, highly-acclaimed author of the Copper Cat trilogy and three-time British Fantasy Award finalist, comes the second novel in the electrifying Winnowing Flame trilogy - the sequel to The Ninth Rain. Epic fantasy for fans of Robin Hobb and Adrian Tchaikovsky.

'An absolute joy to read... jam-packed with breath-taking inventiveness' James Oswald
'Incredible heroines... incredible fantasy... Escapism at its finest' Stylist
The Ninth Rain has fallen. The Jure'lia are awake. Nothing can be the same again.
Tormalin the Oathless and the fell-witch Noon have their work cut out rallying the first war-beasts to be born in Ebora for three centuries. But these are not the great winged warriors of old. Hatched too soon and with no memory of their past incarnations, these onetime defenders of Sarn can barely stop bickering, let alone face an ancient enemy who grow stronger each day.
The key to uniting them, according to the scholar Vintage, may lie in a part of Sarn no one really believes exists - a distant island, mysteriously connected to the fate of two legendary Eborans who disappeared long ago.
But finding it will mean a perilous journey in a time of war, while new monsters lie in wait for those left behind.
Join the heroes of THE NINTH RAIN as they battle a terrible evil, the likes of which Sarn has never known.
What readers are saying about THE BITTER TWINS:
'The sequel to the brilliant Ninth Rain kicks it up a notch with more action, scarier monsters and a more expansive story'
'Be ready for some great reveals and twists that may break your heart, but that will overall leave you fist pumping the air'
'The world building continues to blow my mind
---
Book 3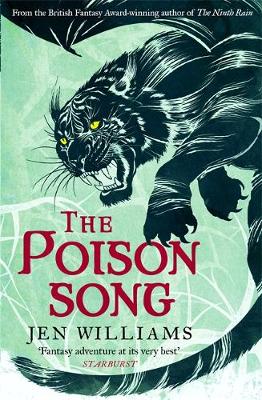 From two time British Fantasy Award-winning author, Jen Williams, comes the electrifying conclusion to the Winnowing Flame trilogy. Exhilarating epic fantasy for fans of Robin Hobb.
'One of the best fantasy novels of the year, if not the decade' James Oswald 

'A fitting finale, triumphant and bittersweet in all the best ways' SciFiNow 

All is chaos. All is confusion. The Jure'lia are weak, but the war is far from over.
Ebora was once a glorious city, defended by legendary warriors and celebrated in song. Now refugees from every corner of Sarn seek shelter within its crumbling walls, and the enemy that has poisoned their land won't lie dormant for long.
The deep-rooted connection that Tormalin, Noon and the scholar Vintage share with their Eboran war-beasts has kept them alive so far. But with Tor distracted, and his sister Hestillion hell-bent on bringing ruthless order to the next Jure'lia attack, the people of Sarn need all the help they can get.
Noon is no stranger to playing with fire and knows just where to recruit a new - and powerful - army. But even she underestimates the epic quest that is to come. It is a journey wrought with pain and sacrifice - a reckoning that will change the face of Sarn forever.
Join forces with the heroes of the WINNOWING FLAME TRILOGY as they strive to silence the Jure'lia's poison song once and for all.
What readers are saying about the WINNOWING FLAME trilogy:
'The woman is a genius! Modern and fresh fantasy... one of my favourite series of the last few years and it ended super strong'
'A fitting end to the trilogy and I am very sad to be leaving this world behind'
'Loved it! When I grow up, I want to be a war-beast'
'Williams knocks it out of the park'
'All the stars for this. ALL... An exceptional finale that exceeded every expectation'
'Feminist fantasy at its best'
'The perfect conclusion to an epic and epically brilliant fantasy trilogy. Jen Williams is a master'
'Brilliantly creative fantasy'
'Great pacing, top-notch writing, quality characterisation, plenty of action!'
'More action, scarier monsters and a more expansive story'
'Be ready for some great reveals and twists that may break your heart, but that will overall leave you fist pumping the air'
'The world building continues to blow my mind'
---