Series:
Wells of Sorcery Trilogy
3 primary works Complete
Book 1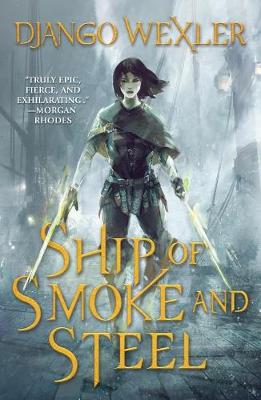 Published 22 January 2019
Ship of Smoke and Steel is the launch of Django Wexler's cinematic, action-packed epic fantasy Wells of Sorcery trilogy.

A FIERCE WARRIOR. HER DEADLY MAGIC.
AN EPIC MISSION TO STEAL A GHOST SHIP.

In the lower wards of Kahnzoka, the great port city of the Blessed Empire, eighteen-year-old ward boss Isoka enforces the will of her criminal masters with the power of Melos, the Well of Combat. The money she collects goes to keep her little sister living in comfort, far from the bloody streets they grew up on.

When Isoka's magic is discovered by the government, she's arrested and brought to the Emperor's spymaster, who sends her on an impossible mission: steal Soliton, a legendary ghost ship—a ship from which no one has ever returned. If she fails, her sister's life is forfeit.

On board Soliton, nothing is as simple as it seems. Isoka tries to get close to the ship's mysterious captain, but to do it she must become part of the brutal crew and join their endless battles against twisted creatures. She doesn't expect to have to contend with feelings for a charismatic fighter who shares her combat magic, or for a fearless princess who wields an even darker power.

"Truly epic, fierce, and exhilarating, Ship of Smoke and Steel will capture you and lock you away. With magical combat sequences fit for the big screen, the action is almost as breathtaking as the intrigue." —Morgan Rhodes, New York Times bestselling author of the Falling Kingdoms series
---
Book 2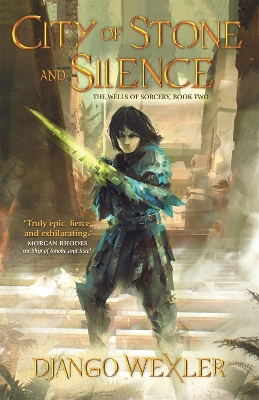 Published 1 February 2020
Django Wexler's City of Stone and Silence is the second book in the cinematic fantasy Wells of Sorcery Trilogy featuring a fierce young woman skilled in the art of combat magic on an epic mission to steal a ghost ship.

After surviving the Vile Rot, Isoka, Meroe, and the rest of Soliton's crew finally arrive at Soliton's mysterious destination, the Harbor—a city of great stone ziggurats, enshrouded in a ghostly veil of Eddica magic. And they're not alone.

Royalty, monks, and madmen live in a precarious balance, and by night take shelter from monstrous living corpses. None know how to leave the Harbor, but if Isoka can't find a way to capture Soliton and return it to the Emperor's spymaster before a year is up, her sister's Tori's life will be forfeit.

But there's more to Tori's life back in Kahnzoka than the comfortable luxury Isoka intended for her. By night, she visits the lower wards, risking danger to help run a sanctuary for mage-bloods fleeing the Emperor's iron fist. When she discovers that Isoka is missing, her search takes her deep in the mires of intrigue and revolution. And she has her own secret—the power of Kindre, the Well of Mind, which can bend others to its will. Though she's spent her life denying this brutal magic, Tori will use whatever means she has to with Isoka's fate on the line...
---
Book 3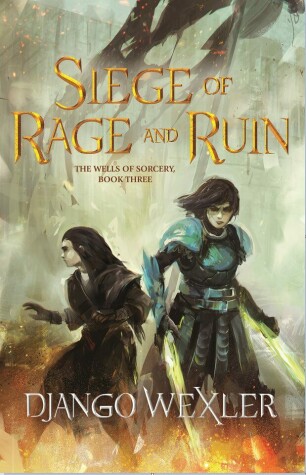 Siege of Rage and Ruin is the explosive final adventure in Django Wexler's The Wells of Sorcery trilogy, an action-packed epic fantasy saga.

Isoka has done the impossible—she's captured the ghost ship Soliton.

With her crew of mage-bloods, including the love of her life Princess Meroe, Isoka returns to the empire that sent her on her deadly mission. She's ready to hand over the ghost ship as ransom for her sister Tori's life, but arrives to find her home city under siege. And Tori at the helm of a rebellion.

Neither Isoka's mastery of combat magic, nor Tori's proficiency with mind control, could have prepared them for the feelings their reunion surfaces. But they're soon drawn back into the rebels' fight to free the city that almost killed them.
---