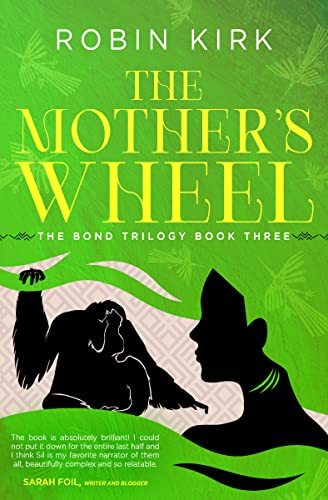 Bookhype may earn a small commission from qualifying purchases. Full disclosure.
There are battles, adventures, and struggles for power galore. But ultimately, The Mother's Wheel is a haunting, heartfelt meditation on love, loss, and what it means to belong to a family." Emily Colin, New York Times bestselling author of The Memory Thief and award-winning author of The Seven Sins series

The Mother's Wheel is the final, thrilling conclusion to the Indie award-winning Bond trilogy.

The mutant draft Sil, who readers met in The Bond, leads a ragtag group of desperate refugees to hoped-for safety in The Deep. Along the way, they meet an orangutan who loves poetry and guards the narrow path into the jungle. But safety proves elusive as the refugees are pulled back into the war unfolding on the heights. A fearsome bee-mutant attacks as part of his plan to murder his sister, the lovely and dangerous Hive Queen.

Will love or hate rule? Who, in the end, can you count on as family when you are the only one of your kind? Their destinies entwined, Sil, Dinitra, and Fir reunite and must choose between each other and the worlds they once called their own.
ISBN13

9798985584141

Publish Date

6 September 2022

Publish Status

Active

Imprint

Far Eek Books
Format

Paperback (US Trade)

Pages

300

Language

English