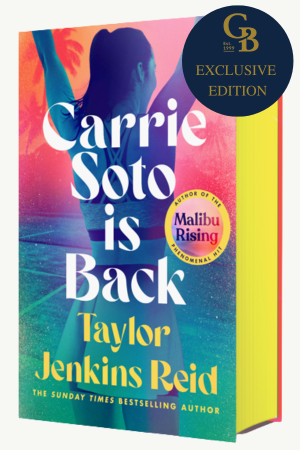 Bookhype may earn a small commission from qualifying purchases. Full disclosure.
From the bestselling author of MALIBU RISING, DAISY JONES & THE SIX and THE SEVEN HUSBANDS OF EVELYN HUGO

'An exhilarating, immersive and gripping ode to the cost of greatness, this is Taylor Jenkins Reid's best book yet. Carrie Soto is an icon for the ages. Five stars, ten out of ten, an A+ and more from me!' LAURA JANE WILLIAMS

'Carrie Soto is Back is a thrilling, joyful smash hit of a book, and Taylor Jenkins Reid is a writer at the absolute top of her game. You will fall in love with Carrie' BETH O'LEARY

'A portrait of female ambition in all its raw and divine glory, Carrie Soto will stay with you long after the last page is turned' ERIN KELLY

Carrie Soto is fierce, and her determination to win at any cost has not made her popular.

By the time Carrie retires from tennis, she is the best player the world has ever seen. She has shattered every record and claimed twenty Slam titles. And if you ask her, she is entitled to every one. She sacrificed nearly everything to become the best, with her father as her coach.

But six years after her retirement, Carrie finds herself sitting in the stands of the 1994 US Open, watching her record be taken from her by a brutal, stunning, British player named Nicki Chan.

At thirty-seven years old, Carrie makes the monumental decision to come out of retirement and be coached by her father for one last year in an attempt to reclaim her record. Even if the sports media says that they never liked the 'Battle-Axe' anyway. Even if her body doesn't move as fast as it did. And even if it means swallowing her pride to train with a man she once almost opened her heart to: Bowe Huntley. Like her, he has something to prove before he gives up the game forever.

In spite of it all: Carrie Soto is back, for one epic final season. In this riveting and unforgettable novel, Taylor Jenkins Reid tells a story about the cost of greatness and a legendary athlete attempting a comeback.


Praise for MALIBU RISING:
'It's 365 pages of pure exhilaration' THE TIMES
'The perfect, literal, beach read, with the emotional depth of the ocean' HOLLY BOURNE
Signed, numbered, with yellow sprayed edges. Limited to 500 copies.