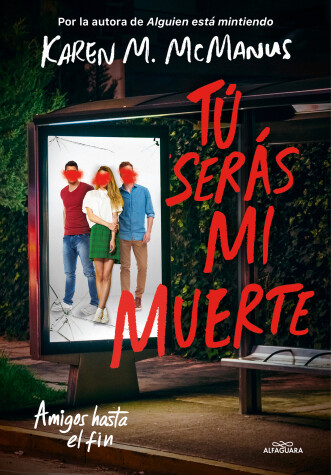 Bookhype may earn a small commission from qualifying purchases. Full disclosure.
¡Un nuevo thriller trepidante de la mano de Karen M. McManus, autora de Alguien está mintiendo!

Ivy, Mateo y Cal solían ser mejores amigos. Ahora todo lo que tienen en común es el Instituto Carlton y la casualidad de encontrarse una mañana cualquiera. Y es una mañana de las malas: Ivy acaba de perder las elecciones al consejo de estudiantes, Mateo hace malabares entre dos trabajos y a Cal le acaban de dar plantón, otra vez. Así que, cuando se encuentran, deciden saltarse las clases juntos, como en los viejos tiempos.

No son conscientes de que su mal día se va a volver mortal. Nada los ha preparado para ser testigos de un asesinato. Y es que Ivy, Mateo y Cal parece que todavía tienen cosas en común: todos tienen una conexión con el chico muerto y todos ocultan algo.

¿Podría ser que su reencuentro no fuera casualidad después de todo?

ENGLISH DESCRIPTION

INSTANT #1 NEW YORK TIMES BESTSELLER • From the author of One of Us Is Lying comes a brand-new pulse-pounding thriller. It's Ferris Bueller's Day Off with murder when three old friends relive an epic ditch day, and it goes horribly—and fatally—wrong.

Ivy, Mateo, and Cal used to be close. Now all they have in common is Carlton High and the beginning of a very bad day. Type A Ivy lost a student council election to the class clown, and now she has to face the school, humiliated. Heartthrob Mateo is burned out from working two jobs since his family's business failed. And outsider Cal just got stood up . . . again. 
 
So when the three unexpectedly run into each other, they decide to avoid their problems by ditching. Just the three of them, like old times. Except they've barely left the parking lot before they run out of things to say. . . 
 
. . . until they spot another Carlton High student skipping school—and follow him to the scene of his own murder. In one chance move, their day turns from dull to deadly. And it's about to get worse. It turns out Ivy, Mateo, and Cal still have some things in common...like a connection to the dead kid. And they're all hiding something. 
 
Could it be that their chance reconnection wasn't by chance after all?
ISBN10

8418915080

ISBN13

9788418915086

Publish Date

9 August 2022

Publish Status

Active

Publish Country

ES

Imprint

Alfaguara
Format

Paperback (US Trade)

Pages

368

Language

Spanish