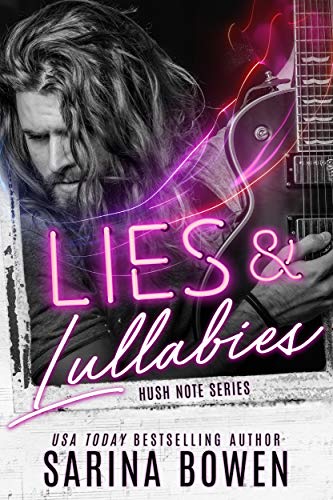 Bookhype may earn a small commission from qualifying purchases. Full disclosure.
Summer nights and star-crossed lovers! From USA Today bestselling author Sarina Bowen.

Once upon a time, he gave me a summer of friendship, followed by one perfect night. We shared a lot during our short time together. But he skipped a few crucial details.

I didn't know he was a rock star.

I didn't know his real name.

Neither of us knew I'd get pregnant.

And I sure never expected to see him again.

Five years later, his tour bus pulls up in Nest Lake, Maine. My little world is about to be shattered by loud music and the pounding of my own foolish heart.
ISBN10

1950155072

ISBN13

9781950155071

Publish Date

22 September 2020

Publish Status

Active

Imprint

Tuxbury Publishing LLC
Format

Paperback (US Trade)

Pages

276

Language

English
Reviews
Ok but the song at the end of the audiobook A Rockstar Prince Charming…

I am absolutely loving the way audiobooks have evolved.

HE SANG TO ME!

It's hard to explain but it feels like there is more of a personal touch/emotional connection when the narrators do more than just read the story to me. In Lies & Lullabies, Tim Paige and Erin Mallon are Jonas and Kiri. I felt the emotional connection between the characters, and I 'saw' them as they were meant to be seen, vulnerabilities and all.

My heart broke for Kiri as she dealt with the aftermath of betrayal and the devastation of feeling abandoned. It wasn't just Jonas who broke her heart, Kiri's father and the people in her town are horrible when they find out she's pregnant and the father is nowhere to be seen. It's only Adam, her brother who she can count on in the tough times. It's easier to move away from the negativity and start afresh, hoping that her heart will mend with her busy new life.

Jonas has fame but it comes at a cost. Everyone around Jonas wants something from him but not a lot are willing to give. When he meets and falls for Kiri, he has convinced himself that there are better men out there for her. Jonas walks away and stays away thinking he's doing best for her. Yes, he probably should have been a little more transparent, but Jonas didn't want her to treat him differently. It's only five years later he realises that keeping his secrets cost him everything he never knew he wanted.

I think the trick with falling in love with a Rockstar is to catch them when they have already got the 'hooking up' and 'partying hard' out of their system. Jonas turns into Prince Charming and is determined to right the wrongs he had previously made. In this story, both Kira and Jonas do a lot of growing in between their initial meeting and when they catch up again. Kira has to learn to trust Jonas and he needs to prove that he's more than a Rockstar. I absolutely LOVED the more mature Jonas. 'Seeing' inside his head was a treat and getting to witness his love and devotion to his new family was so sweet.

If I could find any fault with this story it was probably that I wanted a little more depth and understanding. When Kiri admits to Jonas that she'd been previously hurt, I wanted to 'see' how she recovered, and who helped her the most. It was maybe implied that Jonas starts her healing but not what happened after he left. I also would have liked to understand why Kiri didn't reach out to Jonas once she knew who he really was. This seemed to be skimmed over a wee bit.

I enjoyed getting to know the additional characters, but my favourite was Adam… especially when he was on painkillers. Cracked me up! Then again, Ethan was pretty awesome too. I would LOVE a story for Ethan, and after reading Lies & Lullabies you will know exactly who I want for him. Vivi, Kiri and Jonas's daughter is a cutie patootie and I loved her negotiation abilities. At this stage, Quinn and Nixon have a wee bit to prove but I'm sure (hoping) Devney Perry and Rebecca Yarros will bring them good.

This was my very first ALC (Advanced Listening Copy) and I really enjoyed the experience. I went in knowing that I couldn't be distracted or have outside influences distract me. With Sarina Bowen's excellent storytelling ability, and the fantastic narration, it made it an easy task.

This first instalment of the Hush Note series was an absolute pleasure to listen to, but I'm honestly not surprised. Sarina Bowen is one of my favourite authors and I know I can count on her to leave me satisfied. The narrators do an excellent job portraying the characters, and I loved Tim Paige's, Sweetness. If you're looking for a great romance where the Rockstar wants nothing but a happy ever after with his family by his side, I highly recommend giving Lies & Lullabies a try.

Stacey is Sassy, received an advanced audio copy of this story. The copy provided is not the final copy and may be subject to edits and changes.