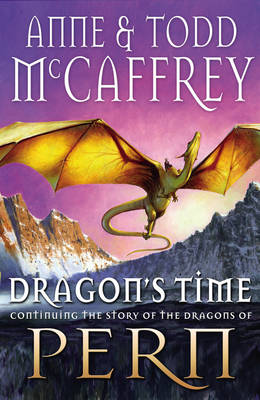 Bookhype may earn a small commission from qualifying purchases. Full disclosure.
Although Lorana cured the dragons' sickness so many died from the disease that there are no longer enough dragons to fight the deadly Thread, and more dragons and their riders die each Threadfall. With their numbers dwindling, Lorana made the decision to fly forward in time in a desperate bid to bring dragons from the future to fight Thread. She knew that jumping so far in time would result in her losing her baby, but without her jump all life on Pern is doomed. Back at Telgar Weyr Fiona, Kindan and T'mar realise what Lorana has done. They are desperately sad, but two things give them hope. The first is that Fiona is expecting twins, and the second the fact that all the dragonriders are exhausted, a sign that they are Timing it - existing elsewhere in space and time - which gives them hope that Lorana has found a way through time to help them. Sure enough, led by messages left for them by Lorana, they fly through space to the Dawn Sisters, the ships hanging in space that brought their ancestors to Pern. From there they look down at the beautiful planet and see a previously undiscovered continent - this is where they are Timing it and where they are reunited with Lorana.
Now they can increase the number and strength of the dragons before going back to their own time to fight Thread. Although Lorana found she couldn't break time, she has found a way to cheat it.
ISBN10

0593066200

ISBN13

9780593066201

Publish Date

23 June 2011

(first published 1 January 2011)

Publish Status

Out of Print

Out of Print

11 August 2014

Publish Country

GB

Publisher

Random House USA Inc

Imprint

Bantam Press
Format

Hardcover

Pages

352

Language

English