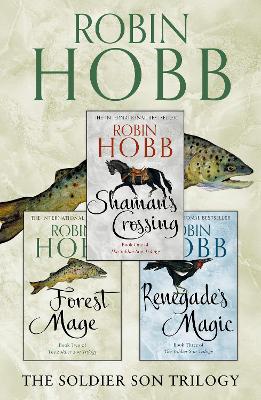 Bookhype may earn a small commission from qualifying purchases. Full disclosure.
The complete Soldier Son Trilogy by international bestselling author Robin Hobb.

`In today's crowded fantasy market Robin Hobb's books are like diamonds in a sea of zircons' George R. R. Martin

When the two-hundred year war between the kingdoms of Vania and Landsing ended the Landsingers were left in triumphant possession of Vania's rich coal and coast territories.

When young King Troven assumed the throne of Vania thirty years later, he was determined to restore her greatness, not through waging another assault upon their traditional enemies, but by looking in the opposite direction and colonising the wild plains and steppes to their east.

Over the next twenty years, cavalry forces manage to subdue the rolling plains formerly wasted on nomadic herders and tribesmen.Troven's campaign restores the pride of the Varnian military and to reward them, Troven creates a new nobility that is extremely loyal to their monarch.

Nevare Gerar is the second son of one of King Troven's new lords. Following in his father's footsteps, a commission as a cavalry officer at the frontier and an advantageous marriage await him, once he has completed his training at the King's Cavalry Academy.

Enter the extraordinary world of Robin Hobb's fantastic Soldier Son Trilogy.

This bundle includes Shaman's Crossing (book one), Forest Mage (book two) and Renegade's Magic (book three).
ISBN13

9780007532148

Publish Date

12 September 2013

Publish Status

Active

Publish Country

GB

Publisher

HarperCollins Publishers Inc

Imprint

HarperCollins
Edition

Digital original

Format

eBook (EPUB)

Pages

1808

Language

English