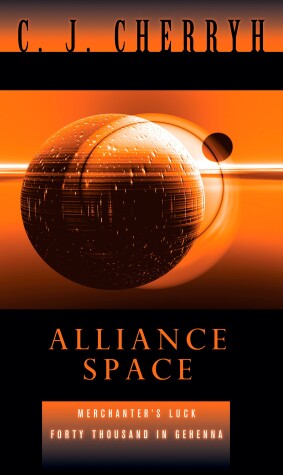 Bookhype may earn a small commission from qualifying purchases. Full disclosure.
Two Alliance-Union novels, Merchanter's Luck and Forty Thousand in Gehenna, bound in one omnibus volume for the first time!

Merchanter's Luck—His name was Sandor and he was the owner and entire crew of a tramp star-freighter that flew the Union planets under false papers and fake names. Her name was Allison and she was a proud but junior member of the powerful family whose mighty starship, Dublin Again, was the true queen of the spaceways. They met at Viking Station, she seeking a night's dalliance, he desperately in search of a spacer assistant. Their fateful meeting was to lead to a record-breaking race to Pell Station, thereby catching the calculating eye of the grim commander of the Alliance battlecraft Norway, and a terrifying showdown at a deadly destination off the cosmic charts.

Forty Thousand In Gehenna—When forty thousand human colonists are abandoned for political reasons on a planet called Gehenna, and re-supply ships fail to arrive, collapse seems imminent. Yet over the next two centuries, the descendants of the original colonists survive despite all odds by entering a partnership with the planet's native intelligence—the lizard-like, burrowing calibans.
ISBN10

0756404940

ISBN13

9780756404949

Publish Date

4 March 2008

Publish Status

Active

Publish Country

US

Publisher

Penguin Putnam Inc

Imprint

DAW Books
Format

Paperback (US Mass Market)

Pages

608

Language

English