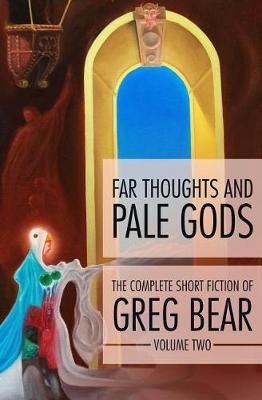 Bookhype may earn a small commission from qualifying purchases. Full disclosure.
6 dazzling stories, freshly revised for this volume, plus new introductions, commentary, and reminiscences from the Hugo and Nebula Award-winning author of War Dogs, Eternity, and The Forge of God

Greg Bear is the author of more than 30 books, from thrillers (Darwin's Radio, Vitals) to science fiction (Blood Music, Eon, Hull Zero Three) to pure fantasy (The Infinity Concerto, The Serpent Mage). He has won 5 Nebula and 2 Hugo Awards, his works have been translated into more than 20 languages, and his titles have sold millions of copies worldwide. But his skills are not confined to writing at full-length novels: He is also the author of dozens of brilliant short stories, novellas, and novelettes. Far Thoughts and Pale Gods contains 6 highly acclaimed stories, each newly revised by the author, that illustrate Bear's abundant breadth of talent. The volume includes:

* "Heads," which marks the first time the concept of quantum computing appears in science fiction-though it is a vision of 400 frozen heads that will remain in the reader's memory;
* "The Wind from a Burning Woman," the first story set in the universe that spawned the novels Eon and Eternity;
* "Plague of Conscience," which explores what it means to be alien-and whether that can be comprehended without understanding what it means to be human;
* "Scattershot," beginning "The teddy bear spoke excellent Mandarin," a gripping deep-space adventure that is also a tribute to legendary female science fiction writer James Tiptree Jr.

These and the remaining entries-"Mandala" and "Petra"-form a remarkable collection showcasing the talents of a major American writer.

Each story is accompanied by an introduction and an afterword written especially for this volume.



ISBN10

1504021428

ISBN13

9781504021425

Publish Date

26 April 2016

Publish Status

Active

Imprint

Open Road Media Science & Fantasy
Format

eBook

Pages

332

Language

English