Series:
All the Stars and Teeth
2 primary works Complete
Book 1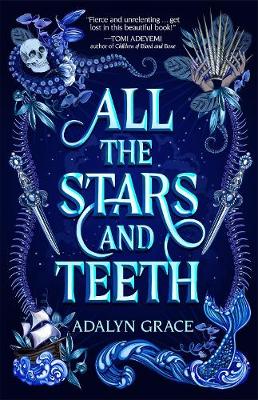 Published 4 February 2020
Named as one of Entertainment Weekly's most anticipated books of 2020, Adalyn Grace's All the Stars and Teeth is a thrilling fantasy for fans of Stephanie Garber's Caraval and Sarah J. Maas's Throne of Glass series.

As princess of the island kingdom Visidia, Amora Montara has spent her entire life training to be High Animancer-the master of souls. The rest of the realm can choose their magic, but for Amora, it's never been a choice. To secure her place as heir to the throne, she must prove her mastery of the monarchy's dangerous soul magic.

When her demonstration goes awry, Amora is forced to flee. She strikes a deal with Bastian, a mysterious pirate: he'll help her prove she's fit to rule, if she'll help him reclaim his stolen magic.

But sailing the kingdom holds more wonder-and more peril-than Amora anticipated. A destructive new magic is on the rise, and if Amora is to conquer it, she'll need to face legendary monsters, cross paths with vengeful mermaids, and deal with a stow-away she never expected... or risk the fate of Visidia and lose the crown forever.
---
Book 2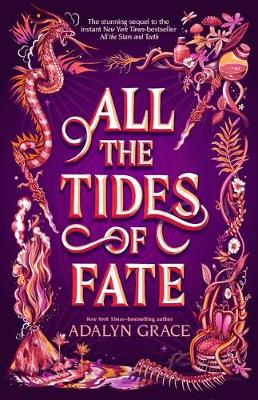 Published 2 February 2021
The thrilling sequel to instant New York Times bestseller All the Stars and Teeth, called "captivating" by Tomi Adeyemi, "Vicious and alluring" by Hafsah Faizal, and "phenomenal" by Adrienne Young. Now author Adalyn Grace is back with more high seas adventure in All the Tides of Fate, this electrifying fantasy, perfect for fans of Stephanie Garber's Caraval and Sarah J. Maas's Throne of Glass series.

Through blood and sacrifice, Amora Montara has conquered a rebellion and taken her rightful place as queen of Visidia. Now, with the islands in turmoil and the people questioning her authority, Amora cannot allow anyone to see her weaknesses.

No one can know about the curse in her bloodline. No one can know that she's lost her magic. No one can know the truth about the boy who holds the missing half of her soul.

To save herself and Visidia, Amora embarks on a desperate quest for a mythical artifact that could fix everything—but it comes at a terrible cost. As she tries to balance her loyalty to her people, her crew, and the desires of her heart, Amora will soon discover that the power to rule might destroy her.
---