Series:
City of Nightmares
2 primary works Complete
Book 1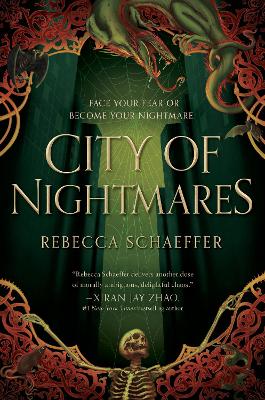 Published 10 January 2023
A YA fantasy for fans of Gotham and Holly Black. In a world where people go to sleep and can wake up as their worst nightmare, Ness, a certified coward, is forced to face her fears when she ends up tangled in the aftermath of an explosion that killed hundreds and left only two survivors—Ness, and a Nightmare boy who she suspects might be planning to eat her.
---
Book 2 Published 26 September 2023
In this thrilling sequel and conclusion to the City of Nightmares duology, which has been praised as "so much fun readers will stay up all night to finish it" (Kirkus, starred review), Ness is forced to make a twisted deal with the Nightmare Phantom—only to find herself embroiled in the explosive fallout of the agreement when a botched assassination attempt unleashes chaos into the City of Newham.
Nineteen-year-old Ness used to have a vehement terror of Nightmares—people who'd been turned into their worst fears while they slept. Through two assassination attempts, an explosion, and a faustian bargain with a dream demon, she's finally working through those fears.
Unfortunately, Nightmares aren't the only dangerous thing in Newham. Working at a speakeasy where gunfights are common and death is a regular occurrence, Ness is forced to reckon with all her other fears—including her fear of mortality. It's easy to die in Newham, but it's hard to live.
So when the Nightmare Phantom—the monster that turns people into Nightmares—shows up, asking her another favor, she agrees, but only if he turns her into a Nightmare. One of her own choosing, something bullet proof and strong and able to live without fear.
But when Ness's attempt to fulfill the bargain goes wrong, things start to spiral out of control. Now, Ness is in the crosshairs of enemies old and new, and this time, she can't run from her problems. If she wants to survive, she's going to have to conquer the most difficult enemy of all: herself
---