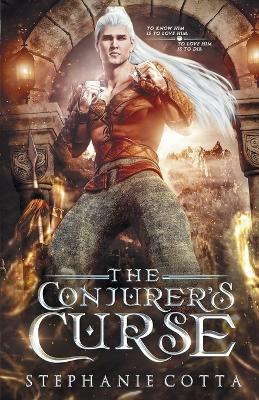 Bookhype may earn a small commission from qualifying purchases. Full disclosure.
Seventeen-year-old Rowan is a walking, breathing curse. He just hasn't realized it yet.

Since birth, Rowan has been the object of scorn in his village. The reason? He's a dikyli-an outsider with albino skin and an ominous mark blazoned on his neck. So when his fourth guardian-mother is found dead, all blame falls on him, and he is banished before his life-draining curse can strike again. The only path left to Rowan is clear: He must discover who cursed him and alter his horrible fate—or forever lose everyone he loves.

From facing treacherous seas, soul-devouring Moonshades, and desert terrors, Rowan battles for his very survival to reach his homeland—the far-off kingdom of Shandria, a land rife with hostilities. Dark surprises and back-stabbing betrayals emerge as two devious Iron Barons—who know the scandalous origin of his curse—plot to imprison him in the Mountain of the Damned with the rest of the accursed.

To make matters worse, Rowan's curse threatens to claim another life when he meets Tahira, a spunky, pertly persistent Shandrian who vows to aid him in his quest despite the overwhelming odds. Their alliance of trust and necessity develops into love—a love doomed to end in death if Rowan remains cursed. With the hope of a future hanging in the balance, he must overcome the greatest challenge of his life. For the only way to end his curse is to slay the Conjurer who cast the life-draining spell.
ISBN10

1957656018

ISBN13

9781957656014

Publish Date

6 December 2022

Publish Status

Active

Imprint

Monarch Educational Services, L.L.C.
Format

Paperback (US Trade)

Pages

342

Language

English