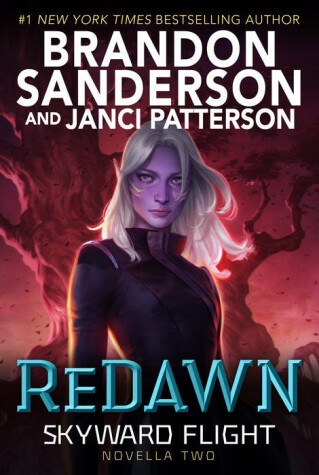 Bookhype may earn a small commission from qualifying purchases. Full disclosure.
From #1 bestselling author Brandon Sanderson and Janci Patterson comes the second of three Skyward series novellas, each told from the perspective of a different member of the team back on Detritus. Read Alanik's story between Starsight and Cytonic.

"Don't trust their lies. Don't trust their false peace." That is the warning that Alanik of the planet ReDawn gave the human pilot Spensa after Alanik's ship crash-landed on Detritus. While accepting an invitation to meet with her people's enemy, the Galactic Superiority, Alanik heard Spensa's cry for help across the vastness of space, and she used her cytonic powers to hyperjump her ship to the source of that cry. What she found there was a shock—a whole planet of free humans fighting against the Superiority. Were they the allies her people desperately needed?
 
When she recovered from her injuries and met the friendly humans Jorgen and FM of Skyward Flight, she found that her warning to Spensa had gone unheeded by the government of Detritus, and they were considering a peace overture from the Superiority. Now having returned to ReDawn, Alanik is dismayed to learn that her own people are falling into the exact same trap.
 
The faction in ReDawn's government that wants to appease the Superiority has gained the upper hand. With Alanik's mentor, Renakin captured, she has no one to turn to but Jorgen, FM, and their friend Rig. An ancient technology may have the power to save both of their planets from disaster, but can they discover its secrets before it's too late?
ISBN13

9780593566626

Publish Date

26 October 2021

Publish Status

Forthcoming

Imprint

Delacorte Press
Format

eBook

Language

English
Reviews
Star Rating: —> 5 Stars

Absolutely freaking fantastic ! So completely & totally excited for Cytonic!!!!

ReDawn is the second novella set inside the Skyward universe, created by Brandon Sanderson. Working alongside Sanderson for these novellas (of which there will be at least three!) is Janci Patterson.

ReDawn is set following the adventures of Starsight and Sunreach (the first novella in the series). If you've been curious about what has been happening to the other characters in the series, then these are a must-read!

Alanik risked everything when she left her home planet – with the intention of using the pilot opportunity to steal a warp drive for her people. Instead, she crashed on the last world inhabited by humans.

Naturally, she wasn't too pleased about being kept in a coma for quite some time. Now she's active once again, and that means she's back to fighting for her people. If only they were willing to do the same.

"Don't trust their lies. Don't trust their false peace."

Guys, I don't know why – but I was SO surprised to hear that we'd be getting a novella from Alanik's perspective! Not that I'm complaining. ReDawn is a fantastic read, especially if you're hoping to learn a bit more about the other alien races in the universe.

Alanik's world is...fascinating. I could read full novels about her world and still not get enough of it. Just the hints we've seen have grabbed my curiosity, and it isn't going to be letting go anytime soon!

I also adored seeing other characters make an appearance in this novella, though I won't spoil it by talking about which characters (though I imagine active readers of the series would probably be able to guess?).

Overall, this was a fun and dramatic addition to the series. I'm going to be really curious to see how much of an impact this plot has on the main storyline. I'm also more interested than ever about what is happening to Spensa.

Next up is Cytonic, which is set to drop on November 23rd. So we're almost there! The next novella will be following the events of that book, and I'm super curious for news on that front.

Read more reviews at Quirky Cat's Fat Stacks