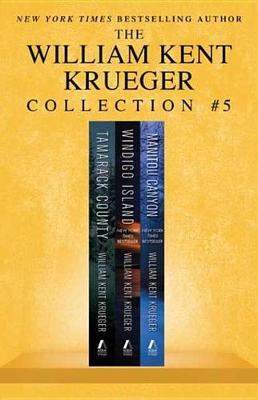 Bookhype may earn a small commission from qualifying purchases. Full disclosure.
"Mystery fans can count on William Kent Krueger for an absorbing book with lots of twists and turns" (Denver Post) and now you can enjoy three absorbing and suspenseful Cork O'Conner mysteries in one stunning collection.

Tamarack County: As a blizzard swells in Tamarack County, a car belonging to the wife of a retired local judge is discovered abandoned on the side of the road. Early on in the investigation of her disappearance, Cork O'Connor, ex-sheriff of Tamarack County, notices small details that tell a disturbing story. When a neighbor's dog is found beheaded and Cork's son is attacked, he realizes these ominous incidents throughout the area have a pattern: someone is spinning a deadly web, and Cork has only hours to stop it before his family and his friends will be forced to pay the ultimate price.

Windigo Island: When the body of a teenaged Ojibwe girl washes up on the shore of an island in Lake Superior, the residents of the nearby Bad Bluff reservation whisper that it was the work of a deadly mythical beast, the Windigo. Such stories have been told by the Ojibwe people for generations, but they don't explain how the girl and her friend, Mariah Arceneaux, disappeared a year ago. At the request of the Arceneaux family, Cork O'Connor takes on the case and he learns that the old port city of Duluth is a modern-day center for sex trafficking of vulnerable women, many of whom are young Native Americans. As the investigation deepens, so does the danger. Yet Cork is resolute in his vow to find Mariah, with only the barest hope of saving her from men whose darkness rivals that of the legendary Windigo, Cork prepares for an epic battle that will determine whether it will be fear, or love, that truly conquers all.

Manitou Canyon: Cork O'Connor is uneasy when his daughter chooses November as the month to set the date for her wedding. Since the violent deaths of his wife, father, and best friend all occurred in previous Novembers, Cork O'Connor has always considered it to the cruelest of months. His concern comes to a head when a man camping in Minnesota's Boundary Waters Canoe Area goes missing. Although the wedding is fast approaching and the weather looks threatening, Cork ventures into the vast wilderness to search. With an early winter storm on the horizon, it is a race against time as Cork's family struggles to uncover the mystery behind these disappearances. Little do they know, not only is Cork's life on the line, but so are the lives of hundreds of others.
ISBN10

1501190288

ISBN13

9781501190285

Publish Date

22 August 2017

Publish Status

Active

Publish Country

US

Imprint

Atria Books
Format

eBook (EPUB)

Pages

1008

Language

English