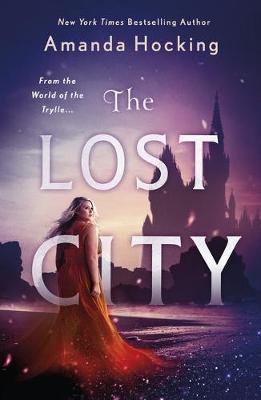 Bookhype may earn a small commission from qualifying purchases. Full disclosure.
Welcome to a world in the shadow of our own, a fairytale land where the dangers are very real . . . In this first book in the Omte Origins trilogy, Amanda Hocking creates a fantastic adventure in her much-loved Trylle universe.

Can she unlock the secrets of her past?

Ulla Tulin was abandoned in an isolated Kanin town as a baby. Taken in by strangers and raised hidden away like many half-blood trolls, she has never stopped searching for her parents, or wondering about them.

When Ulla hears of a project to help half-blood trolls, in the beautiful city of Merella, she seizes the chance to discover her true heritage. She enlists the help of Pan Soriano, who is both handsome and resourceful - a half-human with telekinesis powers. And she must also contend with Eliana, a mysterious girl who claims she's being pursued. Though Ulla suspects there's rather more to the story.

Ulla and Pan work to unravel the truth about themselves and Eliana. But in the process, they realize that someone - or something - is determined to stop them. And they face a force that will do anything to keep certain secrets.

The Lost City by Amanda Hocking is the terrific first book in the Omte Origins trilogy.
ISBN10

1250204267

ISBN13

9781250204264

Publish Date

7 July 2020

Publish Status

Active

Imprint

Wednesday Books
Format

Paperback (US Trade)

Pages

400

Language

English
Reviews
Gosh I love the Trylle universe.
Review to come. Thank you to Netgalley and Wednesday Book for an e-arc in exchange for my honest review.

4.5 stars

The Lost City is a new series in the Tyrell world and it was so nice being back in this world.
This time around we follow Ulla who is a young orphan who thinks she is a troll but knows nothing about her past besides what the people who raised her told her in bedtime stories about how they got her. She knows that she might be Omte but outside of that has nothing. This means it is now time for Ulla to leave her job as a nanny for a family that she has grown to love and go to an internship in the city of Mimirin to work in the archives while searching for info about her family along the way.
From the start, things don't go as expected and she ends up stuck with Hanna who is one of the kids she nannies as they decided to tag along with her. Once at the city Ulla meets her flatmate for the next few weeks Dagny who is a bit grumpy at first. At her job, Ulla quickly realizes that she doesn't have a lot of free time to work on finding out who her parents are, but does use every free break she has to look up info about the little she knows from bedtime stories and finds out some interesting facts along the way. This isn't the most interesting part of the story though, that comes from Hanna finding a new friend Eliana who seems to have some memory problems and figuring out who Eliana it becomes the main focus of the book. This leads to all of them working together to figure it out all while attempting to keep Eliana safely hidden until they can figure out who and what she is.

Overall I loved this story. Getting back into the Tyrell world was exciting after a four-year break from it. Ulla is a character that is very driven and wants to know what is happening but will also ask for her when needed. This is when we see Dagny as well as one of Ulla's co-workers Pan come in to help her figure out who Eliana is, all while also trying to help figure out who Ulla's parents are. The three of them make a great team with all of them knowing different specialties and people that can help them along the way.
The Lost City follows two different mysteries that I have a feeling are connected in some way, and I'm hoping we get to figure them out in book two which comes out in August! I cannot wait till August to figure out what happens to Ulla, Pan, and Dagny next and what they can find out!
I read all of the books that have been written in this world and i think this one has echoes of the first one. The spin off did not intrigue me nearly as much as this one did. I love stories where the character has to discover things about themselves and their past is as much a mystery to them as it is to us. What sold this was not just the mystery around Ulla but also around Eliana, her character was quirky and fun. She really is a stand out character for this book. The mystery around Ulla and Eliana blood and then the plot twist at the end wow i want Morning Flower like yesterday. Great start to what i am sure will be a amazing series.