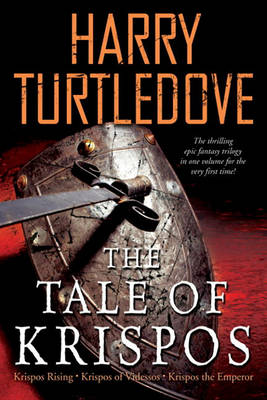 Bookhype may earn a small commission from qualifying purchases. Full disclosure.
The dazzling story of a boy who rises from poverty and hardship to become the greatest leader his world has ever known

KRISPOS RISING
Born a ragged peasant, Krispos lives on the family farm until crushing taxes drove him from the land he calls home. With only a single gold piece to his name–a gift from a nomad chieftain who claimed it carried magic–Krispos heads for the imperial capital, Videssos, and into a world of peril and possibility.

KRISPOS OF VIDESSOS
Krispos' reign as emperor of Videssos shows every sign of being brief and very bloody–for trouble is brewing. Civil war has erupted, and as rebel troops take the field against the untried emperor, outland raiders are sweeping down from the northlands in a tide of carnage. How long can Krispos hope to keep head and crown together?

KRISPOS THE EMPEROR
A strange heresy has taken root in the land and soon dissent flares into open revolt as Krispos faces his greatest challenge: To save his empire from tearing itself apart, he wages an evermore desperate war against an implacable foe, setting brother against brother and father against son.
ISBN10

0345502779

ISBN13

9780345502773

Publish Date

30 October 2007

(first published 1 January 2007)

Publish Status

Active

Imprint

Del Rey Books
Format

eBook

Pages

863

Language

English