Series:
Empyrean
2 primary works 3 total works planned
Book 1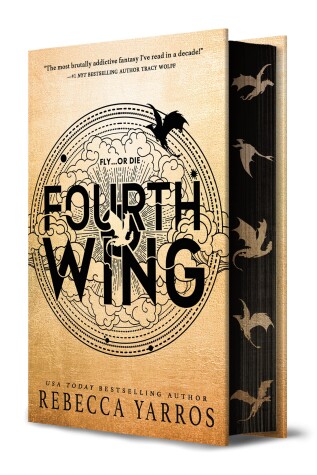 An Instant New York Times Bestseller
A Goodreads Most Anticipated Book

"Suspenseful, sexy, and with incredibly entertaining storytelling, the first in Yarros' Empyrean series will delight fans of romantic, adventure-filled fantasy." --Booklist, starred review

"Fourth Wing will have your heart pounding from beginning to end... A fantasy like you've never read before." #1 New York Times bestselling author Jennifer L. Armentrout

Enter the brutal and elite world of a war college for dragon riders from New York Times bestselling author Rebecca Yarros

Twenty-year-old Violet Sorrengail was supposed to enter the Scribe Quadrant, living a quiet life among books and history. Now, the commanding general--also known as her tough-as-talons mother--has ordered Violet to join the hundreds of candidates striving to become the elite of Navarre: dragon riders.

But when you're smaller than everyone else and your body is brittle, death is only a heartbeat away...because dragons don't bond to "fragile" humans. They incinerate them.

With fewer dragons willing to bond than cadets, most would kill Violet to better their own chances of success. The rest would kill her just for being her mother's daughter--like Xaden Riorson, the most powerful and ruthless wingleader in the Riders Quadrant.

She'll need every edge her wits can give her just to see the next sunrise.

Yet, with every day that passes, the war outside grows more deadly, the kingdom's protective wards are failing, and the death toll continues to rise. Even worse, Violet begins to suspect leadership is hiding a terrible secret.

Friends, enemies, lovers. Everyone at Basgiath War College has an agenda--because once you enter, there are only two ways out: graduate or die.
---
Book 2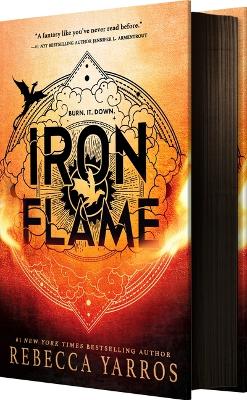 Published 7 November 2023
"The first year is when some of us lose our lives. The second year is when the rest of us lose our humanity." ―Xaden Riorson

Everyone expected Violet Sorrengail to die during her first year at Basgiath War College―Violet included. But Threshing was only the first impossible test meant to weed out the weak-willed, the unworthy, and the unlucky.

Now the real training begins, and Violet's already wondering how she'll get through. It's not just that it's grueling and maliciously brutal, or even that it's designed to stretch the riders' capacity for pain beyond endurance. It's the new vice commandant, who's made it his personal mission to teach Violet exactly how powerless she is–unless she betrays the man she loves.

Although Violet's body might be weaker and frailer than everyone else's, she still has her wits―and a will of iron. And leadership is forgetting the most important lesson Basgiath has taught her: Dragon riders make their own rules.

But a determination to survive won't be enough this year.

Because Violet knows the real secret hidden for centuries at Basgiath War College―and nothing, not even dragon fire, may be enough to save them in the end.
---