Series:
Legends & Lattes
2 primary works
Prequel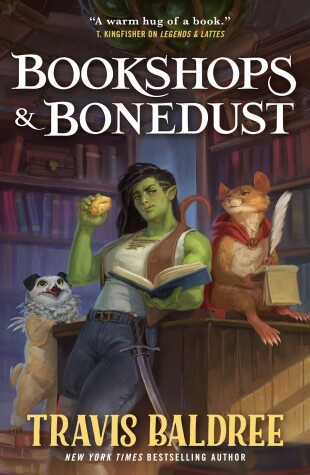 Published 7 November 2023
When an injury throws a young, battle-hungry orc off her chosen path, she may find that what we need isn't always what we seek.

Set in the world of New York Times bestselling Legends & Lattes, Bookshops & Bonedust takes us on a journey of high fantasy, first loves, and second-hand books.

Viv's career with the notorious mercenary company Rackam's Ravens isn't going as planned.

Wounded during the hunt for a powerful necromancer, she's packed off against her will to recuperate in the sleepy beach town of Murk—so far from the action that she worries she'll never be able to return to it.

What's a thwarted soldier of fortune to do?

Spending her hours at a beleaguered bookshop in the company of its foul-mouthed proprietor is the last thing Viv would have predicted, but it may be both exactly what she needs and the seed of changes she couldn't possibly imagine.

Still, adventure isn't all that far away. A suspicious traveler in gray, a gnome with a chip on her shoulder, a summer fling, and an improbable number of skeletons prove Murk to be more eventful than Viv could have ever expected.

"Take a break from epic battles and saving the world. This is a low-stakes fantasy that delivers exactly what's advertised: a wholesome, cozy novel that feels like a warm hug. This is my new comfort read."—Genevieve Gornichec, author of The Witch's Heart, on Legends & Lattes
---
Book 1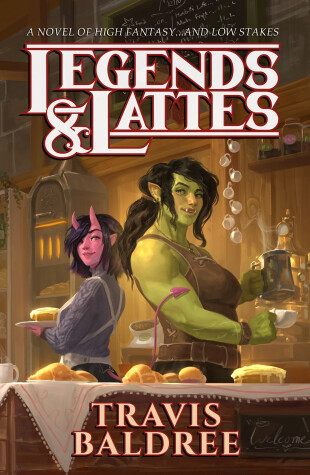 Published 22 February 2022
High Fantasy with a double-shot of self-reinvention

Worn out after decades of packing steel and raising hell, Viv the orc barbarian cashes out of the warrior's life with one final score. A forgotten legend, a fabled artifact, and an unreasonable amount of hope lead her to the streets of Thune, where she plans to open the first coffee shop the city has ever seen.

However, her dreams of a fresh start pulling shots instead of swinging swords are hardly a sure bet. Old frenemies and Thune's shady underbelly may just upset her plans. To finally build something that will last, Viv will need some new partners and a different kind of resolve.

A hot cup of fantasy slice-of-life with a dollop of romantic froth.
---