Series:
The Forsaken
3 primary works Complete
Book 1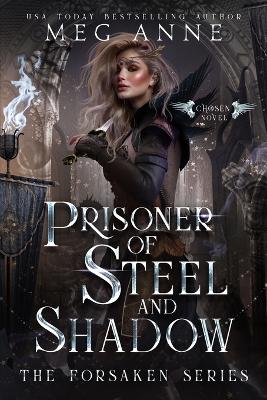 Published 24 October 2022
A Kidnapped Queen

A vengeful god has stolen everything from the queen of assassins. Her title. Her power. Her memories.

Even her name.

Now merely a ghost of her former self, Shadow must enter a deadly game and fight for her freedom or risk spending the rest of her life as a madman's prisoner.

But, in order to win, she may be forced to lose what's left of her true self in the process.

A Legendary Warrior

Resolved to a life sworn to duty instead of love, Ronan wasn't prepared when the assassin queen swept into his life. Then as suddenly as she appeared, she vanished without a trace.

After five years he's no closer to finding her, so when a prophecy offers the first clue to her whereabouts, there's no question he'll set off to rescue her. But when they finally come face to face, she has no idea who he is. In fact, she seems more inclined to slit his throat than fall into his arms.

When it becomes clear his only chance to save her is to become her enemy and enter the contest, he doesn't hesitate. He'd risk everything to bring her back.

Including his life.

After all, the only reason his heart still beats is for her.

Prisoner of Steel and Shadow is the first book in a brand-new trilogy set in the Chosen Universe. Fans of Sarah J Maas and Jennifer L Armentrout will adore this addictive high fantasy romance.
---
Book 2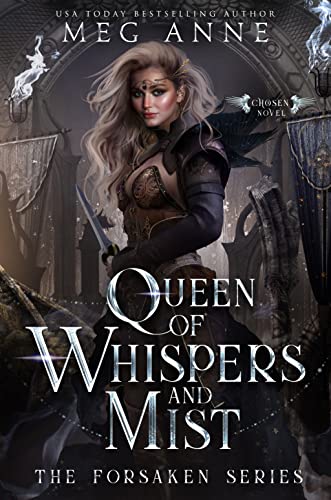 Published 28 November 2022
A champion fighting for love.

The game is over. The title won. His prize? The woman he's walked to the ends of the earth to find.

There's only one problem.

When Shadow comes to him, it's not as his lover, it's as his executioner. Left with no other options, Ronan has two choices.

Take back what is his, or die trying.


An assassin on the run.

Stolen by the very man she was sent to kill, Shadow must win his trust to execute her orders.

But ending his life isn't as easy as expected. Not when he ignites a powerful longing inside her. One she's hopeless to ignore.

Especially when he's the only thing standing between her and the monster stalking her dreams.

Is Ronan the villain she's been led to believe? Or the only one who can save her?


Queen of Whispers & Mist is the second book in the Forsaken trilogy, a high fantasy romance set in the Chosen Universe. Fans of Sarah J Maas and Jennifer L Armentrout will devour this action-packed adventure with its swashbuckling sidekicks, high stakes, and burn-the-house-down chemistry.
---
Book 3
---