Series:
The Left-Handed Booksellers of London
2 primary works
Book 1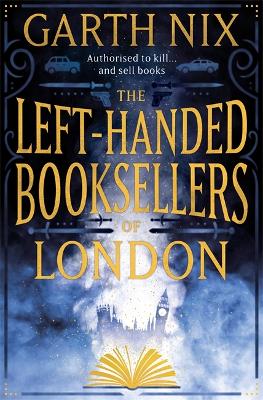 Published 22 September 2020
A girl's quest to find her father leads her to an extended family of magical fighting booksellers who police the mythical Old World of England when it intrudes on the modern world. From the bestselling master of fantasy, Garth Nix.

In a slightly alternate London in 1983, Susan Arkshaw is looking for her father, a man she has never met. Crime boss Frank Thringley might be able to help her, but Susan doesn't get time to ask Frank any questions before he is turned to dust by the prick of a silver hatpin in the hands of the outrageously attractive Merlin.

Merlin is a young left-handed bookseller (one of the fighting ones), who with the right-handed booksellers (the intellectual ones), are an extended family of magical beings who police the mythic and legendary Old World when it intrudes on the modern world, in addition to running several bookshops.

Susan's search for her father begins with her mother's possibly misremembered or misspelt surnames, a reading room ticket, and a silver cigarette case engraved with something that might be a coat of arms.

Merlin has a quest of his own, to find the Old World entity who used ordinary criminals to kill his mother. As he and his sister, the right-handed bookseller Vivien, tread in the path of a botched or covered-up police investigation from years past, they find this quest strangely overlaps with Susan's. Who or what was her father? Susan, Merlin, and Vivien must find out, as the Old World erupts dangerously into the New.

Garth Nix sets the standard for Fantasy (Leigh Bardugo)

Garth Nix is one of the best world-builders in fantasy (BRANDON SANDERSON)
A warm, whimsical delight--The Left-Handed Booksellers of London is a witty, clever adventure in an exquisitely detailed world you will love escaping into (Veronica Roth, #1 New York Times bestselling author of the Divergent series, Carve the Mark series, The End and Other Beginnings, and Chosen Ones)
This is my favorite kind of tale, one where the magic and the real nest together like pages in a book. A delightful read (V.E. Schwab, #1 New York Times Bestselling author of the Shades of Magic series and the Monsters of Verity series)
---
Book 2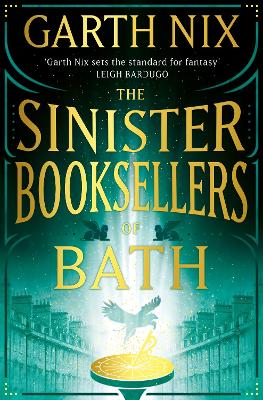 There is often trouble of a mythical sort in Bath. The booksellers who police the Old World keep a careful watch there, particularly on the entity who inhabits the ancient hot spring. Yet this time it is not from Sulis Minerva that trouble starts. It comes from the discovery of a sorcerous map, leading left-handed bookseller Merlin into great danger. A desperate rescue is attempted by his sister the right-handed bookseller Vivien and their friend, art student Susan Arkshaw, who is still struggling to deal with her own recently discovered magical heritage.

The map takes the trio to a place separated from this world, maintained by deadly sorcery performed by an Ancient Sovereign and guarded by monstrous living statues of Purbeck marble. But this is only the beginning, as the booksellers investigate centuries of disappearances and deaths and try to unravel the secrets of the murderous Lady of Stone, a serial killer of awesome powers.

If they do not stop her, she will soon kill again. And this time, her target is not an ordinary mortal.

A wintry return to the somewhat alternate 1980s England of The Left-Handed Booksellers of London.
---