Series:
Anti-Matter of Britain
2 primary works
Book 1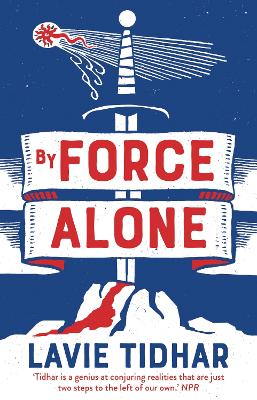 There is a legend...
Britannia, AD 535

The Romans have gone. While their libraries smoulder, roads decay and cities crumble, men with swords pick over civilisation's carcass, slaughtering and being slaughtered in turn.

This is the story of just such a man. Like the others, he had a sword. He slew until slain. Unlike the others, we remember him. We remember King Arthur.

This is the story of a land neither green nor pleasant. An eldritch isle of deep forest and dark fell haunted by swaithes, boggarts and tod-lowries, Robin-Goodfellows and Jenny Greenteeths, and predators of rarer appetite yet.

This is the story of a legend forged from a pack of self-serving, turd-gilding, weasel-worded lies told to justify foul deeds and ill-gotten gains.

This is the story – viscerally entertaining, ominously subversive and poetically profane – of a Dark Age myth that shaped a nation.
EVERYONE'S TALKING ABOUT BY FORCE ALONE:
'A bloody, bravura performance, which Tidhar pulls off with graphic imagery and modern vernacular' Guardian.

'As eclectic as the Sword in the Stone and as ruthless as A Game of Thrones, this retelling of the whole Arthurian legend stands alongside the very best' Daily Mail.

'The narrative voice is deadly serious but there's a strong undercurrent of gleefulness to the profanity, violence and otherworldly magic that makes By Force Alone a whole lot of fun to dive into' Spectator.

'Lavie Tidhar has crafted a punk epic on the mouldering bones of legend and jolted it to life with ten thousand volts of knowing wit and fury. By Force Alone eviscerates the complacent posturing of the Arthurian myth, explodes the well-worn conventions of the tale and from the shiny jagged pieces assembles a wholly fresh rollercoaster ride of cheap violence, vicious magic and messy human truth' Richard Morgan.

'A twisted Arthur retelling mixing the historical and the magical with a very modern eye. Brutal and vicious, funny, Peaky Blinders of the Round Table' Adrian Tchaikovsky.
---
Book 2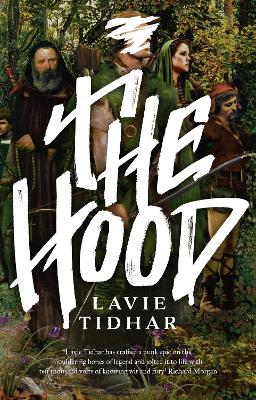 Published 14 October 2021
God bless you, England, on this glorious Year of Our Lord, 1145.
Things are definitely not right in Nottingham. Rebecca, daughter of a Jewish money-lender, has a sense for it.

A mad monk schemes to resurrect the Christ from body parts. A bone harpist murders creatures of legend for a price. A fae creature binds its wings and embraces a new God and his son.

And don't even mention the Hood. The Man in Green. The Prince of Thieves. The tick-tock taker of the ten-toll tax.

What hope have the series of sheriffs sent to hold the peace?

It's the forest, you see. Sherwood. Ice Age ancient, impenetrable, hiding a dark and secret heart. But hearts, no matter how black, no matter how hidden, are not immune to change. The old world is dying... and a terrifying new one is waiting to take its place.

Rebecca senses an opportunity. But how far is she willing to go, and what price – because there is always a price – will she have to pay?

The Hood is Lavie Tidhar's narcotic reweirding of an ancient English myth, a tale stitched together from legends lost to time, a tale told and retold, reworked and renewed for each passing century. A tale, reader, for today.

'A wild, inventive tapestry of myth and magic, with a wry sense of humor. Tidhar's writing is wonderfully vibrant' Silvia Moreno-Garcia, bestselling author of Mexican Gothic
---