Series:
Gargoyle Queen
3 primary works Complete
A spinoff of the Crown of Shards series, focusing on Gemma Ripley, the crown princess of Andvari. Events take place about 15 years after Crush the King.
Gemma Ripley was first introduced in Kill the Queen. Gemma was 12 years old then; in this new series, she is 28 years old.
Some of the characters from the original Crown of Shards series make cameo appearances in Gargoyle Queen, but this is very much Gemma's story.  
Book 1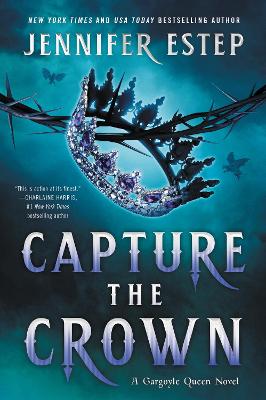 Bestselling author Jennifer Estep returns to her Crown of Shards world with an all-new trilogy and a bold new heroine who protects her kingdom from magic, murder, and mayhem by moonlighting as a spy. 


Gemma Ripley has a reputation for being a pampered princess who is more interested in pretty gowns, sparkling jewelry, and other frivolous things than learning how to rule the kingdom of Andvari. But her carefully crafted persona is just an act to hide the fact that Gemma is a powerful mind magier—and a spy. 
Gemma is undercover, trying to figure out who is stealing large amounts of tearstone from one of the Ripley royal mines when she encounters Prince Leonidas Morricone of Morta—her mortal enemy. Gemma tries to steer clear of the handsome prince, but when she finds herself behind enemy lines, she reluctantly joins forces with Leo. Also coming to Gemma's aid is Grimley, her beloved gargoyle.
Despite the fact that Andvari and Morta are old, bitter enemies, a dangerous attraction sparks between Gemma and Leo. Further complicating matters is Leo's murderous family, especially Queen Maeven Morricone, the mastermind behind the infamous Seven Spire massacre.
The closer Gemma gets to the stolen tearstone, the more deadly plots she uncovers. Everyone is trying to capture the crown, but only one queen can sit on the throne … 
---
Book 2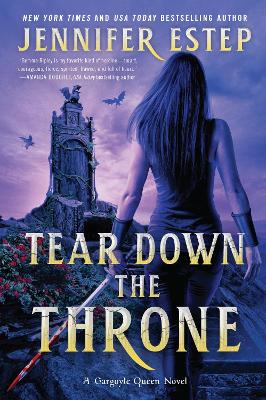 Bestselling author Jennifer Estep continues her Gargoyle Queen epic fantasy series where magic reigns, alliances are tested, and a dangerous attraction could tear down a throne. . .
Crown princess. Clever spy. Powerful mind magier. Gemma Ripley of Andvari is all those things—and determined to stop an enemy from using magical tearstone weapons to conquer her kingdom.
Gemma's quest for answers leads her to a trade Summit between the various kingdoms. Among the other royals in attendance is Queen Maeven Morricone of Morta and her son, Prince Leonidas—Gemma's charming and dangerous nemesis.
Gemma knows that Maeven always has a long game in motion, and sure enough, the cunning queen invokes an arcane tradition that threatens the fragile truce between Andvari and the other kingdoms. Despite her best intentions, Gemma once again finds herself thrown together with Leo and battling her growing feelings for the enemy prince.
When a series of deadly attacks shatters the Summit's peaceful negotiations, Gemma realizes that someone wants to tear the royals down from their thrones—and that this enemy just might succeed.
---
Book 3
---