Series:
Defy the Night
2 primary works
Book 1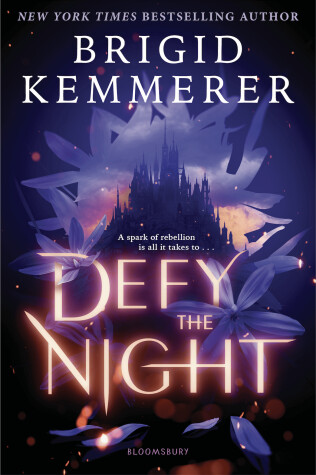 Published 14 September 2021
King Harristan rules Kandala with an iron fist. He's had to ever since he and his brother Prince Corrick inherited a kingdom on the verge of collapse after a deadly illness killed most of the population before a cure was found. The one thing keeping his people alive is also driving them apart . . . the cure, made from the nectar of a rare flower. As sickness lingers among the people of Kandala, a sharp divide has formed, as those who control access to the medicine live in luxury--while the rest live in suffering. The only way to keep the peace is to kill anyone who threatens it, and that task falls to young Prince Corrick.

Tessa Cade is a masked outlaw marked for death, but she likes it that way. At night, she and her best friend Weston Lark ride through the streets of the poorest towns, distributing food, money, and medicine they've stolen from the elite ruling class. Tessa has reason to hate the king: her parents were publicly executed after they were caught selling medicine on the black market. She has reason to love Weston: he saved her life when she nearly followed her parents to the same fate. She's come to hate the dawn, which signals that it's time for Weston to return to his home on the other side of the city, where he spends his days working in the grueling iron forge.

Lately, rumors have been spreading that the cure no longer works, and people are starting to act on their worst impulses. Tessa knows that the only way to save her people--the poor--is to assassinate King Harristan. It's a mission that is more likely to kill her than save anyone, but if her parents were willing to risk their lives, then so is she. What Tessa doesn't expect to find is that everything she believed about her kingdom is a lie, and that tipping the balance of power will require her to work with the very people she intended to destroy. . .

Set in a fantasy world startlingly similar to our own, Brigid Kemmerer's newest series illuminates the divide between those with power and those without. . . and what happens when someone is brave enough to flip the system upside down.
---
Book 2
---