Series:
Documentary Arts and Culture, Published in Association with
1 total work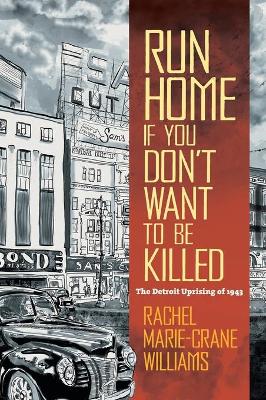 In the heat of June in 1943, a wave of destructive and deadly civil unrest took place in the streets of Detroit. The city was under the pressures of both wartime industrial production and the nascent civil rights movement, setting the stage for massive turmoil and racial violence. Thirty-four people were killed, most of whom were Black, and over half of these were killed by police. Two thousand people were arrested, and over seven hundred sustained injuries requiring treatment at local hospitals. Property damage was estimated to be nearly $2 million.

With Run Home If You Don't Want to Be Killed, Rachel Marie-Crane Williams delivers a graphic retelling of the racism and tension leading up to the violence of those summer days. By incorporating firsthand accounts collected by the NAACP and telling them through a combination of hand-drawn images, historical dialogue, and narration, Williams makes the history and impact of these events immediate, and in showing us what happened, she reminds us that many issues of the time-police brutality, state-sponsored oppression, economic disparity, white supremac-plague our country to this day.
---