Series:
The Scarred Earth Saga
3 primary works
Book 1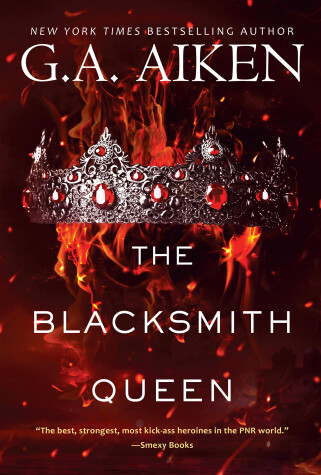 When a prophesy brings war to the Land of the Black Hills, Keeley Smythe must join forces with a clan of mountain warriors who are really centaurs in a thrilling new fantasy romance series from New York Times bestselling author G.A. Aiken.  

The Old King Is Dead
 
With the demise of the Old King, there's a prophesy that a queen will ascend to the throne of the Black Hills. Bad news for the king's sons, who are prepared to defend their birthright against all comers. But for blacksmith Keeley Smythe, war is great for business. Until it looks like the chosen queen will be Beatrix, her younger sister. Now it's all Keeley can do to protect her family from the enraged royals.
 
Luckily, Keeley doesn't have to fight alone. Because thundering to her aid comes a clan of kilt-wearing mountain warriors called the Amichai. Not the most socially adept group, but soldiers have never bothered Keeley, and rough, gruff Caid, actually seems to respect her. A good thing because the fierce warrior will be by her side for a much longer ride than any prophesy ever envisioned …
 
Praise for The Dragon Who Loved Me
 
"A chest thumping, mead-hall rocking, enemy slaying brawl of a good book."
—All Things Urban Fantasy
 
"Aiken aces another one."
—RT Book Reviews, 4 Stars
---
Book 2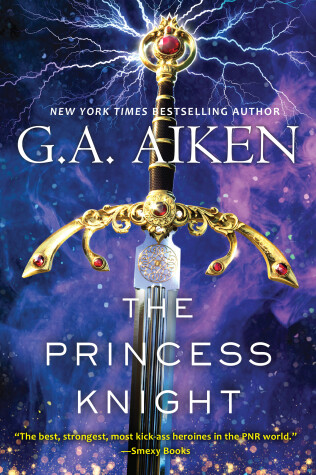 Published 24 November 2020
USA Today Bestseller
An Amazon Best of the Month Selection

"Electrically fun...turns the usual fairy-tale class dynamics upside down...this is a book that encourages trust in people's goodness, if not their patience or good sense. It's light on the romance, but prodigiously good for the heart."
—The New York Times 

In New York Times bestselling author G.A. Aiken's gripping new fantasy romance series, the Blacksmith Queen must confront armies and pretenders desperate to take her new-won crown. But with the Princess Knight at her side and a centaur warrior clan at her back, she'll risk everything for victory . . .
 
LONG LIVE THE QUEEN
 
Gemma Smythe dedicated her life to the glory of battle. With her fellow War Monks, she worshipped the war gods, rained destruction on her enemies, and raised the dead when the fancy took her. Until her sister Keeley became the prophesied Blacksmith Queen, and Gemma broke faith with her order to journey to the Amichai Mountain and fight by Keeley's side.
 
The Amichai warriors are an unruly, never-to-be-tamed lot, especially their leader-in-waiting, Quinn. But when the War Monks declare support for Gemma's ruthless younger sister Beatrix, the immaturity of her key ally is the least of Gemma's problems. She has to get to the grand masters, dispel their grudge against her, and persuade them to fight for Keeley and justice. If her conviction can't sway them, perhaps Quinn's irritating, irreverent, clearly unhinged, ferocity will win the day . . .
 
Praise for The Blacksmith Queen
 
"It may be laugh-out-loud funny, but at its heart this is a story of a woman who cares deeply for both the family she has and the one she creates."
—Bookpage

"Tilting more toward fantasy, this paranormal romance will be a hit with fans of both genres who enjoy tales that are lighthearted and humorous."
—Booklist
---
Book 3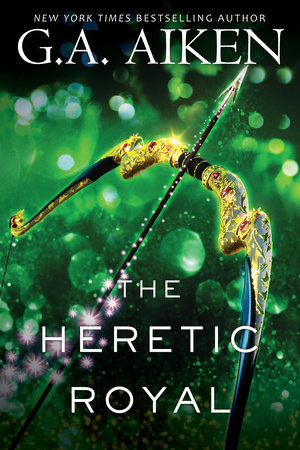 Published 27 December 2022
In the G.A. Aiken's fantasy follow up to the USA Today bestselling Scarred Earth Saga's The Princess Knight and The Blacksmith Queen, two sisters battle for a single throne, warring factions take up arms, a land is divided, and uncertain allies become very certain lovers . . . With subtle commentary on today's political polarization, this riveting epic celebrates strong female characters and champions the underdog within a diverse, high fantasy framework.

As two sisters battle for a single throne in G.A. Aiken's newest fantasy, warring factions take up arms, a land is divided, and uncertain allies become very certain lovers . . . GODS SAVE THE QUEEN!Ainsley Farmerson has always planned to break free of the family business—and the family drama. But what was once farming, smithworking, and bickering over the dinner table has turned into open warfare between sisters. Sides have been taken, lives are on the line, and Ainsley has no doubt which sister must be queen. She'll do whatever is necessary to take down the soulless Beatrix. Even if that means joining forces with angry battle nuns, irritating monks, and overbearing centaurs.   Gruffyn of the Torn Moon Clan has no time for human beings. And yet . . . there is something about the uncontrollable princess that he can't ignore. Maybe it's the way her eldest sisters underestimate her. Or her bravery facing down dragons and mad queens from distant lands. Whatever the reason, Gruff is willing to fight by this human's side. Not only for the entertainment value, but because she's right. Beatrix must never be queen. So whatever he has to do, whoever he has to destroy, Gruff will battle beside Ainsley. Fast. Hard. And with absolutely no mercy . . .
---