Series:
Berkley Medalion Book
1 total work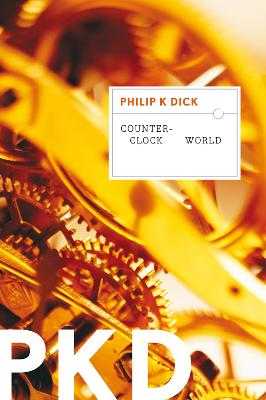 Pre-empting novels such as the Booker Prize-winning `Time's Arrow' by as much as twenty years, Counter-Clock world is a story of racial tensions told against the background of the year 1998 in which time flows in reverse as people are born old only to grow younger and younger.
Time runs backwards in the Counter-Clock World. Old people emerge from their graves, grow to middle age, youth, adolescence and childhood to be finally unborn in their mothers wombs. The most powerful - and most feared - organisation in the world is the Library, in charge of expunging the written records of events, which have no longer happened.
When a powerful black leader is reborn, the Library's one concern is to eliminate him before the renewal of racial violence tears the country apart. But in this counter-clock year of 1998 it isn't that simple...
This eerie and unforgettable premise encapsulates Philip K Dick's ambitious and inimitable approach to fiction writing. The attempts of his characters to cope with the bizarre reality of a world that runs backwards while their minds run forwards like ours, operate as a stunning critique of the way in which we perceive our own civilization.
---