Series:
Lotus Kingdoms
3 primary works Complete
Book 1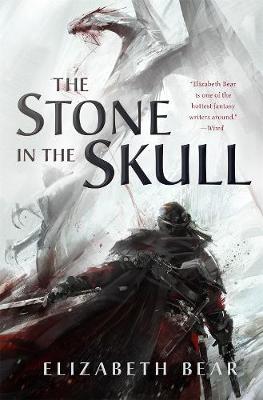 Published 10 October 2017
The Stone in the Skull, the first volume in her new trilogy, takes readers over the dangerous mountain passes of the Steles of the Sky and south into the Lotus Kingdoms.

The Gage is a brass automaton created by a wizard of Messaline around the core of a human being. His wizard is long dead, and he works as a mercenary. He is carrying a message from the most powerful sorcerer of Messaline to the Rajni of the Lotus Kingdom. With him is The Dead Man, a bitter survivor of the body guard of the deposed Uthman Caliphate, protecting the message and the Gage. They are friends, of a peculiar sort.

They are walking into a dynastic war between the rulers of the shattered bits of a once great Empire.
---
Book 2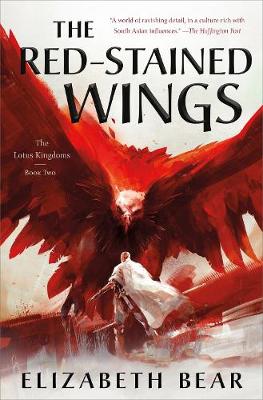 The sequel to The Stone in the Skull takes the Gage into desert lands under a deadly sky to answer the riddle of the Stone in the Skull.

The Gage and the Dead Man brought a message from the greatest wizard of Messaline to the ruling queen of Sarathai, one of the Lotus Kingdoms. But the message was a riddle, and the Lotus Kingdoms are at war.

Elizabeth Bear created her secondary world of the Eternal Sky in her highly praised novel The Range of Ghosts and its sequels. She continued it the first book of the Lotus Kingdoms, The Stone in the Skull.
---
Book 3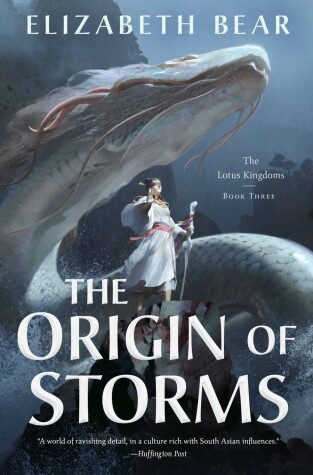 Hugo Award-winning author Elizabeth Bear returns to conclude her acclaimed epic fantasy trilogy of the Lotus Kingdoms, which began with The Stone in the Skull and The Red-Stained Wings, bringing it all to a surprising, satisfying climax in The Origin of Storms.

The Lotus Kingdoms are at war, with four claimants to the sorcerous throne of the Alchemical Emperor, fielding three armies between them. Alliances are made, and broken, many times over—but in the end, only one can sit on the throne. And that one must have not only the power, but the rightful claim.
---