Series:
Embers of War
3 primary works Complete
Book 1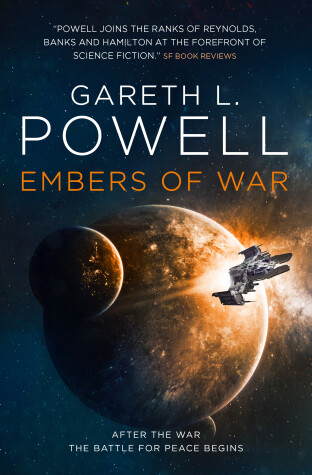 Published 20 February 2018
From BSFA Award winning author Gareth L. Powell comes the first in a new epic sci-fi trilogy exploring the legacies of war The sentient warship Trouble Dog was built for violence, yet following a brutal war, she is disgusted by her role in a genocide. Stripped of her weaponry and seeking to atone, she joins the House of Reclamation, an organisation dedicated to rescuing ships in distress. When a civilian ship goes missing in a disputed system, Trouble Dog and her new crew of loners, captained by Sal Konstanz, are sent on a rescue mission.

Meanwhile, light years away, intelligence officer Ashton Childe is tasked with locating the poet, Ona Sudak, who was aboard the missing spaceship. What Childe doesn't know is that Sudak is not the person she appears to be. A straightforward rescue turns into something far more dangerous, as Trouble Dog, Konstanz and Childe find themselves at the centre of a conflict that could engulf the entire galaxy. If she is to save her crew, Trouble Dog is going to have to remember how to fight...
---
Book 2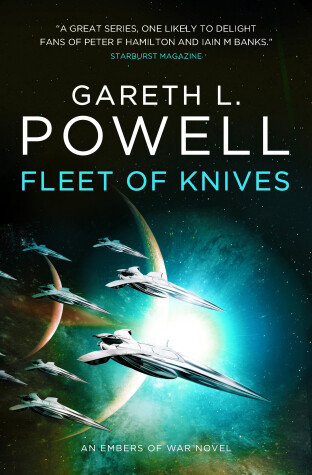 Published 19 February 2019
From award-winning author Gareth L. Powell, the second book in the critically acclaimed Embers of War space opera series.

The former warship Trouble Dog and her crew follow a distress call from the human starship Lucy's Ghost, whose crew have sought refuge aboard an abandoned generation ship launched ten thousand years before by an alien race. However, the enormous vessel contains deadly secrets of its own. 

The Marble Armada calls for recovered war criminal Ona Sudak to accompany its ships as it spreads itself across the Human Generality, enforcing the peace with overwhelming and implacable force. Then Sudak's vessel intercepts messages from the House of Reclamation and decides the Trouble Dog has a capacity for violence which cannot be allowed to endure. 

As the Trouble Dog and her crew fight to save the crew of the Lucy's Ghost, the ship finds herself caught between chaotic alien monsters on one side, and on the other, destruction at the hands of the Marble Armada.
---
Book 3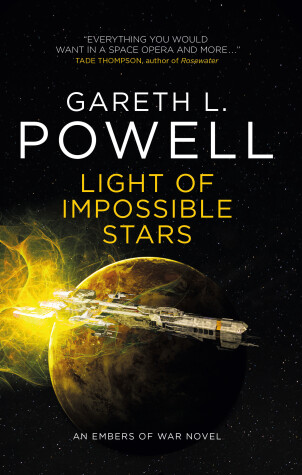 Published 18 February 2020
Award-winning author Gareth L. Powell delivers an explosive conclusion to his epic Embers of War trilogy.

Low on fuel and hunted by the Fleet of Knives, the sentient warship Trouble Dog heads to the Intrusion—an area of space where reality itself becomes unstable. But with human civilisation crumbling, what difference can one battered old ship make against an invincible armada?

Meanwhile, Cordelia Pa and her step-brother Michael eke out their existence salvaging artefacts from an alien city. But when Cordelia is snatched from her home, she begins a journey that will help her understand the strange songs she hears in her head and the strange things that happen around her. What extraordinary affinity does she have for this abandoned alien technology, and how can it possibly help the Trouble Dog?
---