Series:
Oathmark
1 primary work • 2 total works
Book 1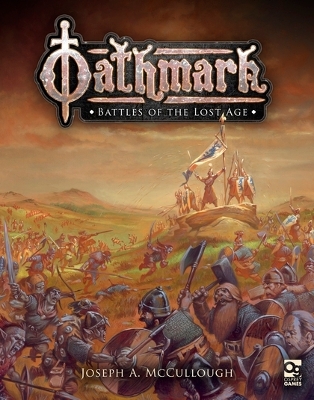 Empires have fallen, and the land is broken. The great oathmarks that once stood as testaments to the allegiances and might of nations have crumbled into ruin. In this lost age, fealty and loyalty are as valuable as gold and as deadly as cold iron, and war is ever-present.

Created by Joseph A. McCullough, designer of Frostgrave and Frostgrave: Ghost Archipelago, Oathmark is a mass-battle fantasy wargame that puts you in command of the fantasy army you've always wanted, whether a company of stalwart dwarves or a mixed force with proud elves, noble men, and wild goblins standing shoulder-to-shoulder in the battle-line. Fight through an integrated campaign system and develop your realms from battle to battle, adding new territories, recruiting new troop types, and growing to eclipse your rivals... or lose what you fought so hard to gain and fall as so many would-be emperors before you.
---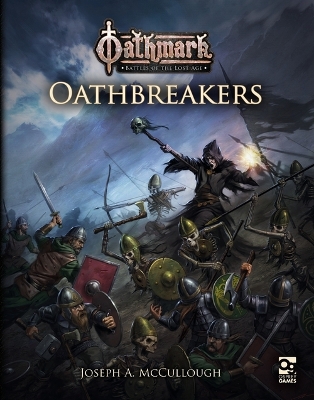 Published 26 November 2020
Dark necromancers have laid claim to forsaken kingdoms and summoned forth the souls of those who defiled their oathmarks. The dead, once again, march to war. As armies of wraiths and skeletal warriors bring destruction to their lands, the small kingdoms of the Marches also turn to the spirits of the dead. Gathering the most ancient and powerful of oathmarks, they recall the spectral forms of those that died in loyal battle to once again come forth in defence of their kingdoms. With these ethereal warriors joining their ranks, the kings of the Marches may yet stand.

This supplement for Oathmark: Battles of the Lost Age introduces the forces of the dead to the game. Some armies will use dark magic to summon the souls and corpses of traitors from the past, while others will recall the spirits of loyal warriors that gave their lives and willingly fight again. This book also includes expanded rules for characters, which allow you to chart their progress from battle-to-battle, and watch as they grow in rank, responsibility, and power. All of these rules are then incorporated into a campaign featuring new scenarios that together tell of an epic war for survival.
---