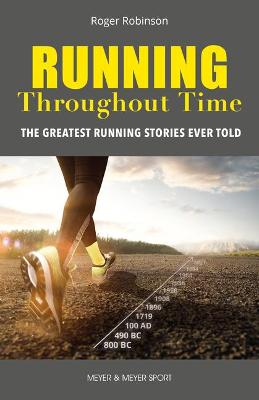 Bookhype may earn a small commission from qualifying purchases. Full disclosure.
Every runner's story is part of a great tradition of running stories. Running Throughout Time tells the best and most important of them. From Atalanta, the heroic woman runner of ancient Greece-when goddesses advised on race tactics-to the new legends of Billy Mills, Joan Benoit Samuelson, and Allison Roe (the modern Atalanta), this book brings the greatest runners back to life. It's the perfect runner's bedside storybook.
Colorful, dramatic, alive with human insight and period detail, these stories are also full of new discoveries. Within these pages, readers will find the true story of Pheidippides and the Battle of Marathon; they will read text from the world's first newspaper report of a footrace (1719). The book uncovers important evidence of the first road races, the origins of cross-country running, and the earliest marathons, telling the true story of the origins of the marathon and just why racers must run exactly 26 miles, 385 yards (42.2 km). Further, it tells more modern stories, like those of women's marathon activist, Kathrine Switzer.
Roger Robinson is a vivid storyteller and a lifelong elite runner who knows the sport deeply and passionately, yet he is also a meticulous scholar who digs and digs until he gets the story right. He shares his findings here, such as those from his investigation of the tragedy during the 1928 Olympics when most of the women running the 800 meters collapsed in distress.
Roger has been everywhere in running: elite runner, masters champion, stadium announcer, TV commentator, researcher, and journalist. The stories in this book are selected because each is significant in the greater story of running and because Roger can bring something new and exciting to their telling. From variant translations of ancient poems, dusty stacks of old newspapers, crackly handwritten notebooks, and carefully studied film footage, Roger has done every kind of homework to get these unforgettable stories right.
All runners should read this book to really know whose footsteps they run in and why running is worthy of the effort they give to it.
ISBN10

1782552413

ISBN13

9781782552413

Publish Date

16 June 2022

Publish Status

Active

Publish Country

GB

Imprint

Meyer & Meyer Sport (UK) Ltd
Format

Paperback (US Trade)

Pages

440

Language

English