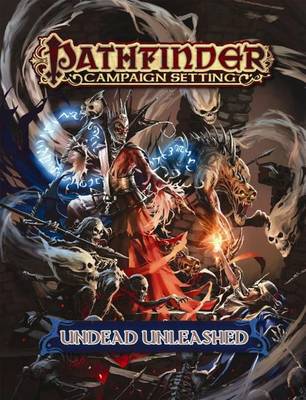 Bookhype may earn a small commission from qualifying purchases. Full disclosure.
Be they flesh-hungry ghouls or cunning vampires, the living dead number
among the favorite threats of Game Masters and players alike. Pathfinder
Campaign Setting: Undead Unleashed details 15 unique undead creatures,
providing information on their lairs, their minions, and their statistics,
enabling GMs to add the walking dead to existing campaigns or base entire
adventures on their sinister plots. Among the included undead are the Lirgeni
lich Meyi Pahano; Erum-Hel, Lord of Mohrgs; the mummified child-god Walkena; and
Ordellia Whilwren, ghostly savior of Magnimar. Breathe life into your next
undead-based campaign with Pathfinder Campaign Setting: Undead
Unleashed!
ISBN10

1601256779

ISBN13

9781601256775

Publish Date

21 October 2014

Publish Status

Active

Publish Country

US

Imprint

Paizo Publishing, LLC
Format

Paperback

Pages

64

Language

English