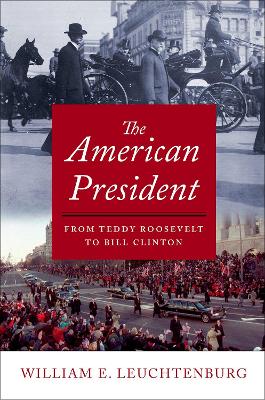 Bookhype may earn a small commission from qualifying purchases. Full disclosure.
The American President is a riveting account of the actions of American presidents in the twentieth century from the assassination of William McKinley in 1901 to Bill Clinton's last night in office in January 2001. William Leuchtenburg, a prize-winning historian who has been a political analyst for major television networks, portrays each of the presidents in a chronicle sparked by anecdote and salted with wit.

In this lively narrative, Leuchtenburg highlights countless moments of high drama: Woodrow Wilson sailing home from Paris with the Covenant of the League of Nations that the United States Senate will reject, breaking his heart; FDR hurling defiance at the "economic royalists " who exploited the poor; John F. Kennedy coping with white-knuckle anxiety as Soviet vessels approach an American naval blockade in the Atlantic; Richard Nixon conspiring to suppress evidence of the Watergate break-in;
grievously wounded Ronald Reagan quipping with nurses while fighting for his life; Bill Clinton seeking to survive his affair with Monica Lewinsky as his pursuers close in.

American President shows the enormous growth of presidential power from its lowly state in the late nineteenth century to the imperial presidency of the twentieth century. That striking change, Leuchtenburg maintains, was manifested both at home-in periods of progressive reform from Theodore Roosevelt's Square Deal, Woodrow Wilson's New Freedom, and Franklin Delano Roosevelt's New Deal to Harry Truman's Fair Deal, John F. Kennedy's New Frontier, and Lyndon B. Johnson's Great
Society-and abroad, notably in World Wars I and II, the Korean conflict, Vietnam, and the war on terror.
4L American President exposes numerous instances when even the best of presidents practiced deceit, puncturing the inflated reputations of the overrated. But it also demonstrates brilliantly that there were times when the country's leaders were magnificent figures, worthy of the nation's pride.
ISBN10

0195176162

ISBN13

9780195176162

Publish Date

11 February 2016

Publish Status

Active

Publish Country

US

Imprint

Oxford University Press Inc
Format

Hardcover

Pages

904

Language

English