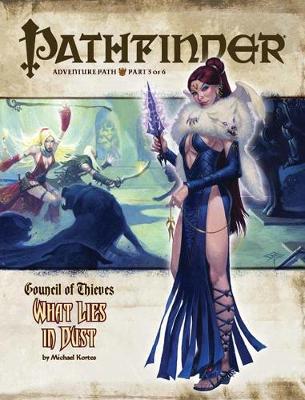 Bookhype may earn a small commission from qualifying purchases. Full disclosure.
The boldest explorers and adventurers in the world belong to the legendary
Pathfinder Society, a brethren that seeks to chart the secret history of the
world by exploring its forgotten corners and crumbling reliquaries. The
Pathfinder Lodge in the city of Westcrown has laid dormant for a century since
revolution thrust the Empire of Cheliax into the hands of a new
devil-worshipping aristocracy, sealed with magical locks and wards to protect
the secrets within. One such secret holds the key to defeating the shadow
creatures infesting Westcrown. Facing magical guardians, devious traps, and the
vampiric minions of their umbral enemies, the heroes must explore the sealed
Pathfinder Lodge and learn the forgotten secrets of the Pathfinder Society! A
Pathfinder adventure designed for character levels 7 - 8.
The Council of Thieves Adventure Path is the first to take full
advantage of the new Pathfinder Roleplaying Game rules, and works with
both the Pathfinder RPG and the standard 3.5 fantasy RPG rules
set.
ISBN10

1601251971

ISBN13

9781601251978

Publish Date

9 December 2009

Publish Status

Out of Print

Out of Print

19 October 2016

Publish Country

US

Imprint

Paizo Publishing, LLC
Format

Paperback

Pages

96

Language

English