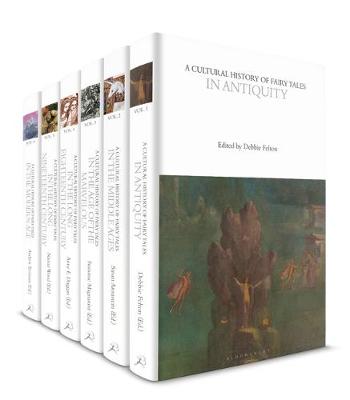 Bookhype may earn a small commission from qualifying purchases. Full disclosure.
How have the fairy tales of different cultures changed over the centuries? What do they tell us about our fears and hopes?

In a work that spans 2,500 years these ambitious questions are addressed by over 50 experts, each contributing their overview of a theme applied to a period in history. With the help of a broad range of case material they illustrate broad trends and nuances of the fairy tale in Western culture from antiquity to the present. Individual volume editors ensure the cohesion of the whole, and to make it as easy as possible to use, chapter titles are identical across each of the volumes. This gives the choice of reading about a specific period in one of the volumes, or following a theme across history by reading the relevant chapter in each of the six.

The six volumes cover: 1 - Antiquity (500 BCE to 800 CE); 2 - Medieval Age (800 to 1450); 3 - The Age of the Marvelous (1450 to 1650); 4 - The Long Eighteenth Century (1650 to 1800); 5 - The Long Nineteenth Century (1800 to 1920); 6 - The Modern Age (1920 to the present).

Themes (and chapter titles) are: Forms of the Marvelous; Adaptation; Gender and Sexuality; Humans and Non-Humans; Monsters and the Monstrous; Spaces; Socialization; and Power.

The page extent for the pack is approximately 2,000pp. Each volume opens with Notes on Contributors and an Introduction and concludes with Notes, Bibliography, and an Index.

The Cultural Histories Series
A Cultural History of Fairy Tales is part of The Cultural Histories Series. Titles are available both as printed hardcover sets for libraries needing just one subject or preferring a one-off purchase and tangible reference for their shelves, or as part of a fully-searchable digital library available to institutions by annual subscription or on perpetual access (see www.bloomsburyculturalhistory.com).
ISBN10

1350095737

ISBN13

9781350095731

Publish Date

17 June 2021

Publish Status

Forthcoming

Publish Country

GB

Publisher

Bloomsbury Publishing PLC

Imprint

Bloomsbury Academic